John Mahama: I will serve Ghana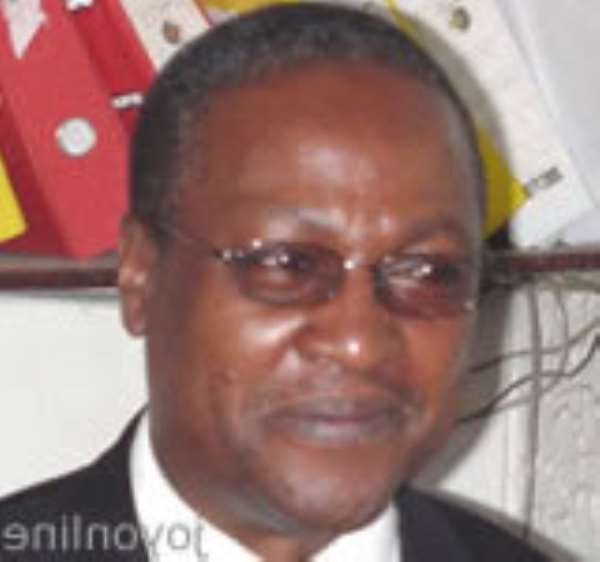 Listen to John Mahama
Hon. John Dramani Mahama, confirmed Wednesday as running mate to National Democratic Congress flag bearer, Prof John Evans Atta Mills, says he has accepted his new role to serve mother Ghana rather than pursue his personal goals.
John Mahama had seemed hesitant in the days preceding his confirmation even as rumours hit the airwaves that he had been picked by Prof Mills.
Against that background, former First Lady Nana Konadu Agyeman Rawlings, who had preferred Mrs Betty Mould Iddrisu for the slot, criticised the rumoured choice of John Mahama saying he had already rejected the offer in favour of academic pursuits.
But John Mahama told Joy FM's Kojo Oppong-Nkrumah, on the Super Morning Show that his personal plans must wait.
"You try to follow the plan you have for your life but like I said, sometimes fate plays tricks with us. Yes I had a plan, and the plan was not to continue in politics for a while, I wanted to experience other challenges because after 12 years I thought that I should look at other areas but you feel you work with people and people have a certain opinion of you and initially when this thing was broached I was categorical and said no, it wasn't something I wanted to do, but you have people who will come and speak with you, people you consult with and all that and aside from that I had a meeting with Prof (Mills) and leveled with each other, it was a frank discussion and what has happened has happened so we will take it in our stride. I guess that in everything that I have tried to do, in the service both in the private and public sector, I have tried to put my best into it and that is the way I'm going to push this one. I will give it the best shot for the sake of the people of Ghana."
John Mahama said he would leave the question of whether he is competent to discharge the duties of the office he is being entrusted with in the hands of all Ghanaians and all those he has worked with.
Besides, he said people have a right to express their opinions and those choices should be respected by all, stressing that is what "our unity in diversity is all about."
"I mean if anybody, it doesn't matter who, makes a choice, I respect the choice and it doesn't worry me."
John Mahama said he had not met or spoken with the former First Lady yet since his confirmation but given the role and influence of the former first couple in the NDC, he would expect them to support the party for victory.
Author: Isaac Deborah