Africa And India Demand Action To Rein In Oil Price Hike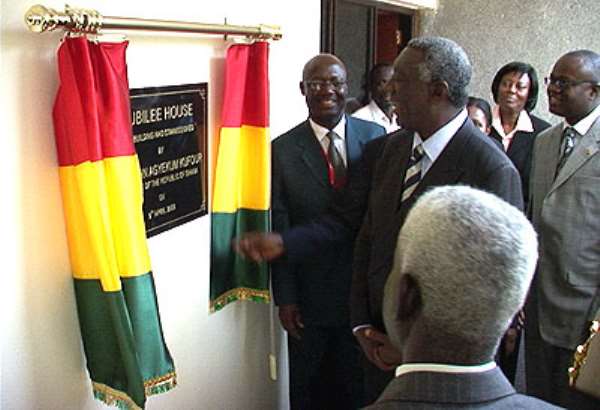 President Kufuor unveils plaque to commission the Jubilee House at the Ghana High Commission in New Delhi, India
Africa and India have jointly demanded urgent global intervention to rein in the crude oil price hike, which they said was hurting their economies.
Summing up the conclusions of the historic Indo-African partnership Forum held in Delhi, African Union (AU) Chairman and President of Tanzania, Jakaya Mrisho Kikwete said if the situation was allowed to persist, all the economic growth gains they have achieved risked being reversed.
He said it was therefore their common position that this should be quickly brought to the attention of the international institutions of political and economic governance including the World Bank and the International Monetary Fund (IMF). Another issue of concern that also required to be addressed was escalating food prices, he said.
President John Agyekum Kufuor was among the 14 African Leaders, who attended the two-day meeting designed to help to fashion out a comprehensive framework to guide the economic co-operation between Africa and India into the future.
The AU Chairman said to help Africa to address its supply side constraints in order to take advantage of the zero-tariff, quota-free access to the Indian market, as announced by the Prime Minister Dr Manmohan Singh last Tuesday, the Continent needed to be supported with more investments from India.
President Thabo Mbeki of South Africa, Senegalese President Abdoulaye Wade, President Joseph Kabila of the Democratic Republic of Congo, Ugandan President Yoweri Musevini and Prime Minister Meles Zenawi of Ethiopia also attended the summit.
The Leaders of the various Regional Economic Communities on the Continent as well as the President of the AU Commission, Professor Alpha Konare were present. The Forum comes at a time when the world's most powerful economies are jostling to establish a strong presence in Africa.
India, an emerging economic powerhouse, presently, trades with Africa to the tune of about 30 billion dollars.
A declaration adopted by the Leaders called on members of the World Trade Organisation (WTO) to implement duty-free and quota-free market access for all products coming from the Least Developed Countries.
Additional measures should also be taken to provide market access to them through simplified and transparent Rules of Origin.
The declaration further called for the reform of the international financial architecture, especially International Financial Institutions (IFIs) to reflect the changing global situation.
It said there was the need for effective voice and participation of developing countries, including quotas and voting rights in the IFIs.
This, it said would enhance those Institutions' accountability, legitimacy, credibility and effectiveness.
'We have agreed that Africa and India will strengthen not only their bilateral linkages, but that India will also progressively strengthen its partnership with the AU and the Regional Economic Communities', it said.
Meanwhile, President Kufuor has inaugurated a Jubilee House built for Ghana's Mission in Delhi. It would accommodate the Deputy Head of the Mission.