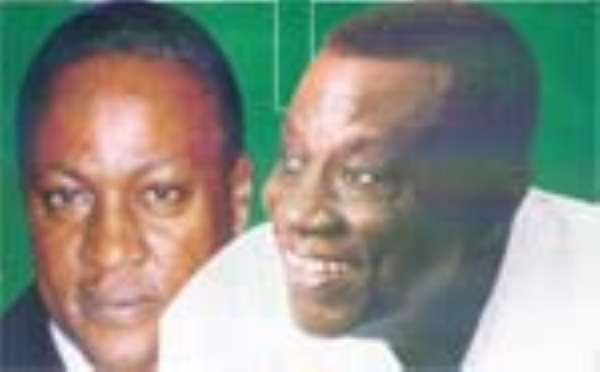 JERRY JOHN Rawlings, National Democratic Congress (NDC) founder, was yesterday tactically left out the historic and high-profile meeting of his party's National Executive Committee (NEC) during which the flagbearer, Prof John Evans Atta Mills named the Bole/Bamboi MP, John Dramani Mahama, as his running mate.
The former President and his wife, Nana Konadu Agyeman Rawlings, were virtually dribbled in the tense ball-game to pick the party's running mate to partner Mills for the December 7, 2008 general elections.
Rawlings arrived at the venue just after Prof. Mills had made his decision known and was hurriedly leaving the Kama Conference Centre venue.
When he was told that the meeting was over, Rawlings was speechless, and could only manage a refrain: "I wish all of them well".
DAILY GUIDE learnt that Prof Mills did not allow any question from members at the crunch meeting after dropping John's name.
Baba Jamal, Deputy General Secretary in charge of Finance and Administration, who tried to raise a question, was shouted down by Mills' aides, with frustrations written on the faces of people who had contrary opinions.
Not only was the former First Couple's choice of Mrs. Betty Mould-Idrisu woefully thrown out; the decision by the NEC to accept John Mahama was also announced before the founder got to the Kama Centre venue, prompting him to backtrack into his car.
Rawlings, after arrival, did not even set foot at the meeting venue, but only got down from his vehicle, had a few minutes' tete-a-tete with the MP for Prampram, Enoch Teye Mensah, who had come out of the meeting to see Prof. Mills off, after which he, Rawlings, jumped back into his vehicle and drove off.
Though Prof. Mills had been subjected to an intense pressure from the 'owners of the party' to forget the idea of selecting John Mahama and go in for Mrs. Betty Mould-Iddrisu, a Lawyer at the Commonwealth Secretariat, a lot of factors including supernatural beliefs were said to have made him stand his ground.
Apart from the fact that John Mahama is largely acclaimed as a fine and appealing gentleman, some Men of God after allegedly looking into the realms of the spirits, had assured Prof. Mills that the selection of John Mahama would be a good omen for the NDC during this year's presidential elections.
Elvis Afriye Ankrah, the NDC Deputy General Secretary, who read a terse hand-written statement to the media, noted that Prof. Mills had concluded all the final consultative processes in conformity with Article 44 of the NDC constitution and chosen John Mahama as his running mate and that at a later date, an official announcement by the Prof. himself would be made.
Meanwhile, Nana Konadu Agyeman Rawlings, the former First Lady, would by now be rehearsing with boxers' gloves to 'tell Prof. Atta Mills something' for failing to pick Mrs. Betty Mould-Iddrisu as his running mate.
Just after it was made public that the NDC presidential ticket was a 'John/John' partnership, Mrs. Rawlings, when contacted by local media, declined to pass any comment on the matter, with an excuse that she had not been briefed on the development.
Her rejected candidate, Betty, currently cooling off in London, also declined to comment on the issue when contacted.
Prior to yesterday's announcement, Konadu had hopped from one radio station to another, running riot and vowing publicly that no longer would the NDC treat the learned professor with kids' gloves and that in the two previous elections, he was allowed to have it his way, but this time round, it would be a different ball-game.
Yesterday, the Prof. was being driven off in his black mini bus when the former President arrived in a green Toyota Land Cruiser, and if the two had not used separate routes, their vehicles would have by-passed each other.
The meeting itself lasted for about 10 minutes and reports said Prof. Mills was originally expected to have put three names on board, after which consultations with his party's elders would be held over which of the three names would be his running mate.
However, the Professor, who came for the meeting a bit late, after exchanging pleasantries with his eager audience, only announced that he had chosen John Mahama for the coveted position, to the chagrin of those who had wanted a different person.
The December 2008 polls would be the third time Prof. Mills is contesting the presidency and on each occasion he had selected a different running mate.
In 2000, Prof. Mills chose Martin Amidu, then Deputy Attorney General and changed him for Muhammed Mumuni during the 2004 race.
Whether or not John Mahama could transform the twice-defeated Professor into the next President of Ghana, only time will tell.
John Mahama, a Catholic, holds a Post-Graduate Diploma in Communication Studies from the University of Ghana, Legon and is married with five children.
In a related development, the presidential candidate of the New Patriotic Party (NPP), Nana Akufo-Addo has congratulated John Mahama on his nomination as Mills' running mate and revealed that the NPP running mate would be announced by the end of August.
"The NPP wishes to extend our heartfelt congratulations to Hon. John Dramani Mahama on his selection as Prof. John Evans Atta Mill's running mate. We welcome him to the democratic debate about the future of our country.
"The NPP believes that the outcome of the elections will be determined by the respective records of the NDC and the NPP in government as well as the competing visions of Nana Addo Dankwa Akufo-Addo and Prof. John Evans Atta Mills for the future of Ghana. We are fully prepared for the contest.
"We reiterate our call to the NDC to join us in an issue-based contest that will make all Ghanaians proud," a statement signed by Dr Kofi Konadu Apraku, Campaign Director said.
Another school of thought from the NPP was that after all, the 'Rawlings tin-god-jinx' has not been broken as the selection of John Mahama was concluded several months back and that the impasse between Mr. and Mrs. Rawlings on one hand, and Prof. Mills on the other, over the choice of a running mate was a stage-managed gimmick to present the learned Professor as a man of his own.
In attendance at yesterday's meeting were NDC bigwigs such as the National Chairman, Dr. Kwabena Adjei; Minority Leader, Alban Bagbin; Enock Teye Mensah, Baba Jamal, Ama Benyiwa Doe, Hannah Tetteh Kpodah as well as Victor Smith, among many others.
By Halifax Ansah-Addo