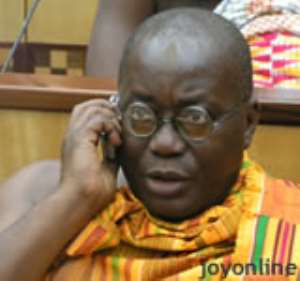 A Founding member of the New Patriotic Party Mr. Alex Abdel Edusei has sounded a note of caution to the ruling party to learn from developments in the NDC over the selection of a running mate.
He said although he does not anticipate the sort of acrimony that exists in the NDC to surface in the NPP, any miscalculations could adversely affect the chances of the party in the December polls.
He is vying for the NPP Parliamentary slot of the Kwadaso constituency.
Speaking to Nhyira FM's Ohemeng Tawiah, Mr. Edusei said a truly democratic party like the NPP must be guided by democratic tenets when choosing a running mate.
Nana Akufo-Addo, he said should be given the free hand to choose someone he would feel comfortable working with and one who could win floating voters for the party.
Mr. Edusei who is a former chairman of the United States branch of friends of J. A. Kufuor advocated the selection of a running mate from the northern part of the country.
A northerner running mate could best complement the flag bearer of the party, Nana Akufo-Addo, he noted.
"I don't think the northern sector of within our party should be ignored at all we should try to encourage them to be fully fledged members of party", Mr. Edusei emphasised.