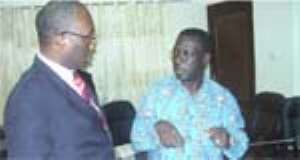 Professor Christopher Ameyaw Ekumfi, Minister of Habours and Railways yesterday set up a seven-member committee to investigate alleged financial impropriety leveled against Rafus Okai Quaye, Managing Director of the Ghana Railways Company Limited and other matters.
The committee which has 21 days to submit its report to the Sector Minister has been tasked to carry out thorough investigations into the management and operations of the estate division of the company as well as all transfers by management since July 2006.
Furthermore, the committee will conduct investigations into financial regulations of the company in relation to the signing of cheques and other relevant matters.
Inaugurating the team, Professor Ameyaw Ekumfi said the setting up of the committee is a clear indication of government's commitment to adhering to the memorandum of understanding (MoU) signed by stakeholders.
According to him, in order to ensure uninterrupted operations and industrial harmony in the rail sector in the country, the committee would ensure speedy and thorough investigations into the allegations and grievances of the workers.
"In our efforts at finding lasting solutions to the challenges facing the Ghana Railway Company, we must constantly be mindful of the critical importance of following laid-down rules and regulations that govern our collective and individual actions," he explained.
He therefore urged the workers to re-dedicate efforts at improving the fortunes of the company.
Professor Ameyaw Ekumfi said since the GRCL is an organization with a huge potential, the advantages to be derived from a functioning, efficient and modernized railway system cannot be over-emphasized.
In the same vein, he added, "Efforts at attracting private sector participation are aimed at providing the needed financial capacity, management and technical know-how for the rapid transformation of the railways system in Ghana."
A.K. Obbin, Chairman of the Parliamentary Select Committee on Transportation chairs the committee while members include Nana Awualae Agyefi Kwame II, Chief of Essikado; Charles Bawa Dua of the Trade Union Congress; and J.K. Hackman of the GRCL.
Other members include a representative from the Attorney General's Department and the Ministry of Manpower, Youth and Employment as well as Cecilia Erzuah of the Ministry of Habours and Railways.
By Charles Nixon Yeboah