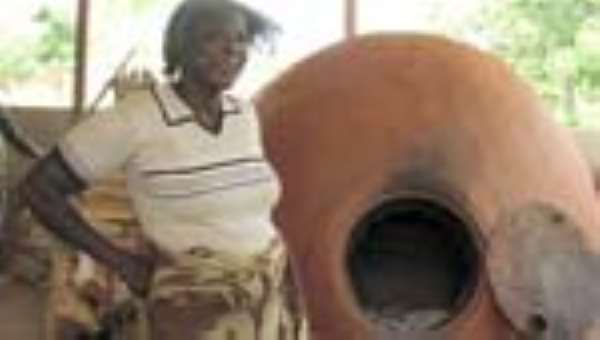 Bakeries have been hit hard by persistent increases in the price of flour.
Not only do the bakeries have to contend with increasing prices; they are also grappling with flour shortages, which they believe will have a telling effect on prices in the coming months.
In Accra, not a single shop is selling the 50kg bag of flour for less than GH¢50, and traders anticipate the price could triple by the close of 2008.
Bakers are unhappy about the situation and a shop owner claimed he bought a 50 kg bag of flour for GH¢30 three months ago, but was now buying the same for almost twice as much.
According to various bakeries, hardly a week goes by without an increase in the price of flour.
They have attributed the rising cost to what they claim to be an artificial shortage of flour due to hoarding. They claimed they are just about able to break even, trying not to run into losses.
Some bakers have tried to cut corners, reducing ingredients such as margarine, and in some cases, substituting flour with other ingredients, just to make sure the loaf of bread is weighty enough.
Flour traders seem to be determining their own prices, pegging the 50 kg bag at between GH¢53 and GH¢60.
They have blamed this on import duties, world food prices and also on the fact that Ghana is not a major wheat production country.
The situation can be liked to the concerns of the Food and Agricultural Organization (FAO), which stated in February this year that the rising price of cereals such as wheat and maize, is a major global concern.
According to FAO, poor countries could see their cereal import bill rise by more than a third, and Africa as a whole is expected to see an estimated 49 percent increase this year.
International wheat prices have risen 83 percent in the last 12 months.
The FAO noted that rising prices of wheat, maize and rice would push up the cost of basic foods.
According to an official of the Takoradi Flour Mills, who spoke on anonymity, the company can now only afford to bring in a quarter of a vessel instead of the usual full load.
In October last year, the company sold a 50kg bag of flour for GH¢22, but now, the same product is selling at GH¢52.
According to the company, the price of a tonne of wheat in January last year was around $220, but the current price is $840.
The official explained that the cost of freight has also quadrupled, from $30 a tonne to $188 for shipment.
Shortfalls in Australia by 60 percent, the 10 percent damage of the European wheat harvest and shortfalls in Canada by 30 percent are factors which have been blamed for the situation.
From Business Desk