State Funding Of Political Parties - Oquaye Revives Debate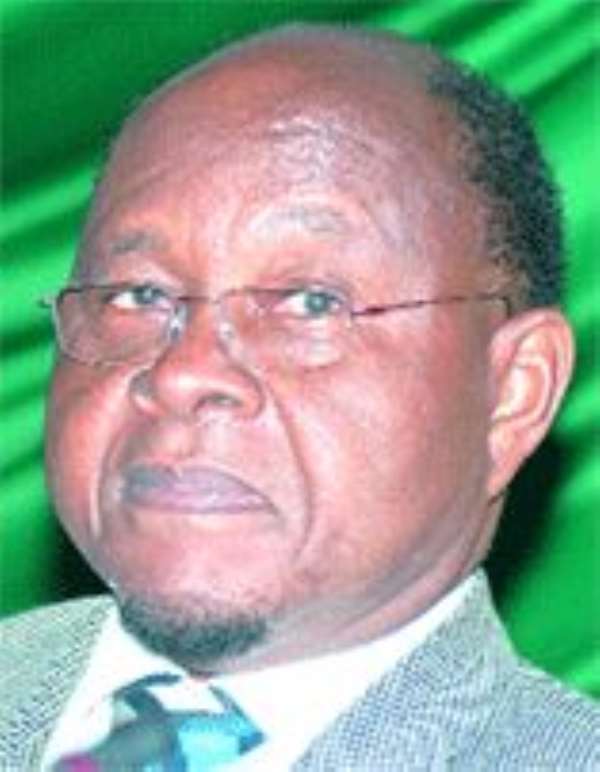 The Member of Parliament (MP) for Dome-Kwabenya, Professor Mike Oquaye, has joined the debate on state funding of political parties, saying any such hasty move can lead to a proliferation of political parties.
Associating himself with the section of Ghanaians who have advocated caution in the matter, Prof Oquaye said the country must be careful not to open the Pandora's box because it would have a snowballing effect which might be difficult to control.

"The impression should not be created that people can form political parties for personal gain, otherwise everybody will leave his or her job to form a political party for personal gain," he cautioned.

Prof. Oquaye was reacting to the proposals presented by four political parties and the Institute of Economic Affairs (IEA) for the state to fund political parties.
 
The parties are the New Patriotic Party (NPP), the National Democratic Congress (NDC), the Convention People's Party (CPP) and the People's National Convention (PNC).

The first note of caution on the proposal was struck by the Executive Director of the Ghana Centre for Democratic Development (CDD-Ghana), Professor Emmanuel Gyimah-Boadi, who argued in favour of spending money on more pressing national needs.

But others like Dr Nii Moi Thompson, an economist, and Mr Kwesi Jonah, a political scientist, threw their weight behind the proposal.

Sharing his views in an interview in Accra yesterday, Prof. Oquaye suggested that the state should not rush to sponsor any new political party unless the party had participated in an election.

He said in countries where state sponsorship of political parties existed, the practice emerged when support was given on a pro rata basis based on the parties' performance in previous elections.

"New political parties are not given assistance until they have satisfied certain conditions or participated in an election and demonstrated that they did not form the parties for the sake of them," he stated.

He said if a party had a percentage in a previous election and lost that percentage in another election, it got the assistance based on the last election.

Prof Oquaye, who contested and lost the NPP presidential ticket, said although state sponsorship of political parties would consolidate democracy, it should be done in such a way to avoid the proliferation of political parties, saying that.

no country progressed with the proliferation of political parties.

"We should not encourage people to form political parties just for assistance. It is dangerous; it brings about political instability and also blurs the choices the people make," he stated.

According to him, "if that happens, we are confusing an already unenlightened electorate. It will not help our cause for everybody to form a political party just because there is money to be accessed".

Prof Oquaye, who also served as the Minister of Energy and later Communications in the Kufuor government, explained that the essence of political parties was to allow people to make choices, explaining that too many of them made it difficult for people to make their choices.

Prof Oquaye, a former Head of the Political Science Department of the University of Ghana, Legon, said where political parties were supported, it was not to defeat the main objects of politics, that is, to ensure responsible accountability of the government and stability.

According to him, where support was based on performance at an election, every political party would be required to justify its inclusion.

He explained that even for political debate, too many political parties would not help the candidates to have meaningful debate and raise the issues for the electorate to make informed choices.

Prof Oquaye said the political landscape must offer the opportunity for serious players and that it should not lead to the cheapening of politics.

He stated that state sponsorship must, however, be subject to availability of funds because there were other areas where support was required.

Those areas, he said, included support for the Electoral Commission to replace lost ID cards, the reopening of the voters register for those who had attained 18 and above to register, the display of the voters register and the movement of electoral materials on voting day.

"As it is now, these processes are not done at all polling stations as a result of the lack of money, compelling people to walk long distances to register," he added.

Prof Oquaye said although he supported the funding of political parties in principle, it must be done well.

He said the state must guard against the situation where political party financing by certain groups or foreign interest groups led to the control of political parties and even governments later.
 
He said political party financing could be done either in cash or in kind and added that in the past, political parties were supported through the provision of vehicles and media coverage in the state-owned media.

"The provision in the Constitution that all state-owned media provide fair coverage for all political parties is another way of support for political parties," he stated.

Prof Oquaye said the way to assist in the future, without the state necessarily putting in money, was for it to increase the support in kind.

"Luckily, the state has newspapers, radio and television stations and they can be asked to assist political parties through advertisement and offering them the platform to sell themselves through news coverage.
 
This opportunity is also a way to promote public education and develop politics through issues," he stated.

He said even with that the issue must be looked at critically to determine who got what, since an across-the-board assistance would be defeatist because it was not good for people to form political parties and ask the state to give them support in cash or in kind.

On whether he would retain his seat or not, Prof Oquaye said he won the seat by 65.2 per cent and looked forward to repeating the dose or doing even better.

Story by Albert K. Salia