Kufuor Congratulates Kofi Annan On 70th Birthday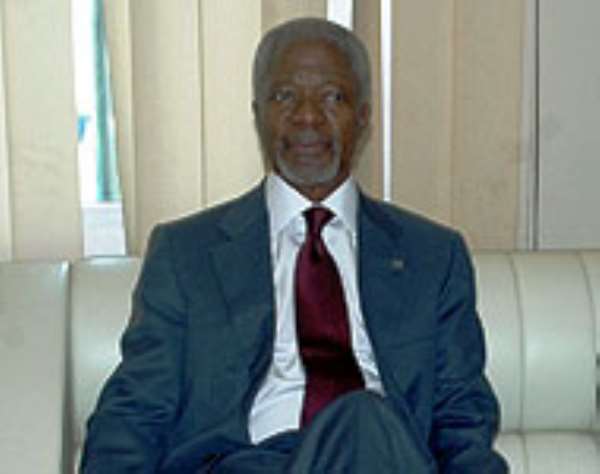 Former UN Secretary General, Kofi Annan   President John Agyekum Kufuor on behalf of the First Lady, Mrs Theresa Kufuor, government and all Ghanaians has congratulated Busumburu Kofi Annan on his 70th birthday, which falls today.
     
A message issued on President Kufuor's behalf by Mrs Mary Chinery-Hesse, Chief Advisor to the President, in Accra yesterday said: 'As you celebrate your 70th birthday, let me wish you long life, strength and increased wisdom so you can fulfil the destiny that God has designed for you in the service of mankind.'
     
It said the life of Mr Annan had been full of inspiration not only to the people of Ghana, but Africa and the entire world.  'You have inspired the world to realise and accept that the African can rise up to the pinnacle of world diplomacy and achieve the highest possible laurels.'
     
Mr Annan, the message said, was able to rise from a humble beginning in Ghana to become the first black African Secretary General of the United Nations and demonstrated that with hard work, diligence, perseverance and humility, the sky was the limit for all mankind.
     
'Your commitment and effort to alleviate hunger and poverty worldwide is unmatched. You continue to provide wise counsel and give your time generously to work for the benefit of Ghana and the African continent.'
     
It said the award of the Nobel Peace Prize to him manifested the world's recognition of his role to global peace and his success in resolving the Kenyan crisis further proved his capabilities. 'Your name and achievements will forever be engraved in gold in the world's history,' the message added.