Ghana,India Pledge To Deepen Economic Partnership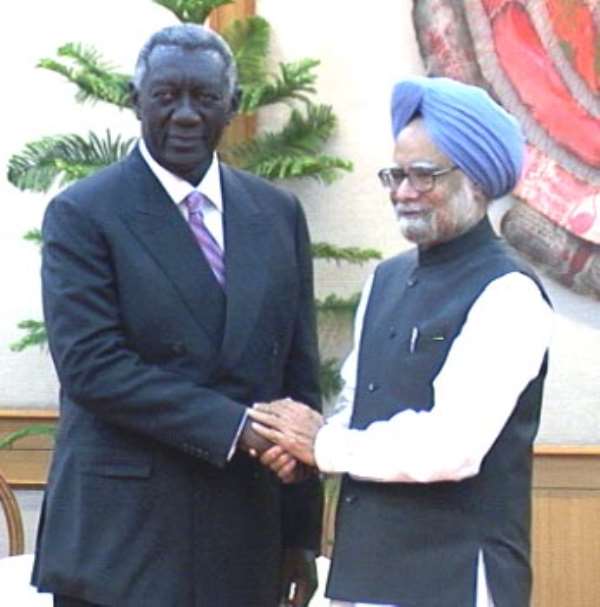 President Kufuor (left) in warm handshake with India Prime minister, Dr. Manmohan Singh
Ghana and India yesterday renewed their resolve to deepen bilateral relations and economic partnership for the mutual benefit of the peoples of the two countries.
Their main areas of focus would include Information Communications Technology (ICT), agriculture and infrastructure development.
This was the outcome of talks held between President John Agyekum Kufuor and Indian Prime Minister Dr Manmohan Singh, ahead of the two-day Indo-African Summit in Delhi. Fourteen African Heads of State are attending the meeting to launch an action plan and to adopt a declaration to take their time-tested relations to new heights.
Partnership between Ghana, an emerging economy with a rapidly expanding need for technology and India, a nation recognised as a pacesetter in the global knowledge economy, could significantly help the West African nation to bridge the digital divide and accelerate its pace of development.
Ghana's press secretary and presidential spoke person, Mr Andrew Awuni, said President Kufuor described India 'as a shinning example and an inspiration for the developing world' adding that, Ghana wanted to learn from India's example and best practices.
Additionally, he noted that the Asian country had a strong private sector with the capacity to invest.
Mr Awuni told the Presidential Press Corps that President Kufuor pointed out that there were various projects India could build and transfer in African countries as a way of supporting the Continent with the needed technological know-how to give meaning to the South-South co-operation.
Responding, Dr Singh said his country was determined to strengthen its socio-economic, political and cultural ties with Africa. He said he was confident that the summit would be a major success with concrete results to show.
President Kufuor later held separate meetings with a group of investors, who have shown interest in the Ghanaian economy. The investors are into telecommunications, supply of agricultural equipment and machinery and the energy sectors.
One of the groups, Escorts, which is already in Ghana, deals in agricultural equipment and has so far brought down 1,500 tractors for supply to farmers.
Mr Rajan Nanda, Chairman of the Company, informed President Kufuor that they had secured a 100-million dollar credit line to assist more Ghanaian farmers to import tractors from India.
Indo-Ghanaian relations have traditionally been warm and friendly and following President Kufuor's four-day state visit in 2002, India's private sector presence in Ghana has steadily increased, especially in the areas of pharmaceuticals, Information Technology (IT), agro-processing, automobiles and supply of agricultural equipment.