33 Countries Face Food Shortages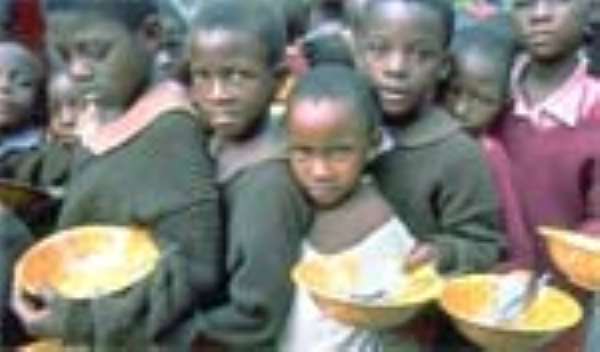 The World Bank says 33 nations, from Mexico to Yemen, may face social unrest after food and energy costs increased for six straight years.
Rice, the staple food for half the world, rose 2.4 percent to a record $20.985 per 100 pounds in Chicago yesterday, doubling the price a year ago.
Analysts say it may reach $22 by November this year.
From Cairo through New Delhi to Shanghai, the run on rice is threatening to disrupt worldwide food supplies as much as the scarcity of confidence earlier this year roiled credit markets.
China, Egypt, Vietnam and India, representing more than a third of global rice exports, curbed sales this year, and Indonesia says it may do the same.
Investigators in the Philippines, the world's biggest importer, raided warehouses last month to crack down on hoarding.
Most analysts added that rice will gain substantially over the next two years.
Governments will likely maintain curbs on exports "because those countries want to be able to continue to feed their own populations", they added.
The upheaval parallels turmoil in global capital markets that seized up nine months ago when subprime mortgages collapsed.
Rice growing nations are driving up prices for producers that want to sell abroad.
The Vietnam Food Association said on April 2 it asked members to stop signing export contracts through June, following China, which imposed a 5 percent tax on exports as of January 1, 2008. Egypt banned rice shipments through October.
Record grain prices are stoking inflation.
Wholesale costs in India rose 7 percent in the week ended March 22, the fastest pace in more than three years, underscoring the threat from rising food costs, the Ministry of Commerce and Industry in New Delhi said.
World rice stockpiles are at their lowest levels since the 1980s, and the United Nations forecasts that exports will drop 3.5 percent this year.
Demand will increase 0.6 percent this year to 422.5 million tons, while production will rise about 1 percent to 422.9 million tons, the U.S. Department of Agriculture said on March 11, 2008.
Rice yields globally expanded more than 40 percent from 1980 to 2000, according to data compiled by the US Department of Agric.
From Business Desk