We Are Prepared!Says NADMO but requires GHC 20,000 to carry out rescue and emergency operations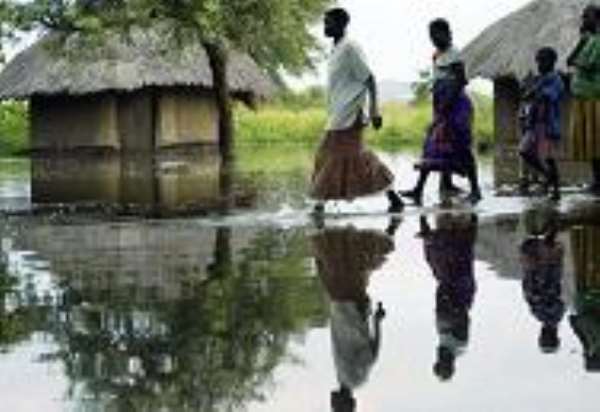 Mr. Ben Brown the Greater Accra Regional Co-coordinator of the National Disaster Management Organization (NADMO) has affirmed the organization's preparedness to parry flood-related challenges with the onset of the rains.
He said "NADMO is prepared to evacuate, rescue, mitigate, or prevent fatalities,…we have in place a rapid response team comprising personnel from the Air Force, Navy, 48 Engineers Regiment, the National Fire Service, Ghana Health Service, the Police and the Ghana National Ambulance Service as our partners in our rescue operations in the event of floods. "
Responding to media reports about severe floods expected to hit parts of Accra and the rest of the country from April to August, he said NADMO requires a total of GHC 20,000 to be able to carry out its rescue operations among other things, including pitching of camps for Internally Displaced Persons (IDPs), provision of healthcare, rescue and evacuation.
Mr. Brown told ADM last Friday that "NADMO as a body has no legal backing to prosecute offenders or to demolish buildings of people who defy legislation prohibiting building on water courses… ACT 517 which established NADMO mandates us to act as facilitators and advisors….we don't have the teeth to bite….the power to prosecute is in the hands of the District Assemblies."
He said plans are far advanced to revere the trend as a bill aimed at strengthening and broadening NADMO's scope of work is at the considering stage at the Attorney Generals Department, a move he hoped would deepen the organization's autonomy.
He advised residents of flood prone areas in and around the Greater Accra Region to look out for weather warnings every morning before setting out for work because "the rains will come, if you are a driver don't drive in the rain, pedestrians must not seek refuge under high billboards because the rains come with accompanying winds." He asked the general public to contact NADMO for weather updates on 021-772926.
Areas expected to be flooded include Mandela, Sowutuom, Alajo, Avennor, Odawna and Mallam and their adjourning areas.