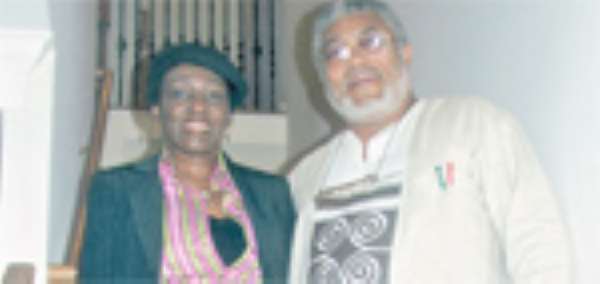 The furore over the choice of a running mate for National Democratic Congress (NDC) presidential candidate, John Evans Atta Mills appears to have set apart party founder, Jerry John Rawlings and his wife, Nana Konadu Agyeman Rawlings.
DAILY GUIDE learnt that cracks had emerged in the household of the former First Family, with Mr. Rawlings firmly in support of John Mahama, MP for Bole Bamboi, against his wife's choice - Betty Mould Iddrisu, wife of former NDC Minister of Defence.
The former First Lady had openly expressed her opposition to the selection of Hon Mahama, mobilizing a group to demonstrate in favour of a woman as the running mate.
Sources close to the Ridge residence of the former President indicated that recent media reports about the flagbearer consulting Rawlings about his choice of John Mahama was indeed true.
Prof Mills was said to have met his former boss during the Easter break where he put John's name before the NDC founder for endorsement.
The former President had always suggested that John was the person who could give the NDC presidential candidate the much-needed missing votes, and accepting him was only a matter of concurrence.
However, Mrs. Rawlings sees John as an unreliable person.
The Bole MP was initially said to have rejected the offer to partner Mills, citing his PhD programme at a London university among other reasons.
But Nana Konadu insisted that her husband's position on John had since changed, since Betty was identified as the new kid on the block.
She warned that if Prof Mills went ahead and announced the name of John as his running mate, "we will tell him what we want to tell him".
Meanwhile, Minister of Tourism and Diasporan Relations, Stephen Asamoah-Boateng has described the insinuations on Prof Atta Mills as politically suicidal for the former Vice President.
According to him, whichever way one looked at the utterances, it vindicated the Ghanaian electorate who had all along insisted that the Professor was the pet of the former First Couple.
He said the NDC leadership had all along succeeded in denying the allegations, adding that the former First Lady had finally let the cat out of the bag.
Making the observations in an interview with DAILY GUIDE, the Minister noted that the claims by Nana Konadu that she and her husband had all along treated the flagbearer with kids' gloves showed that there were bigger gloves and punches awaiting the Professor should Ghanaians give their mandate to him.
"Ghanaians are politically wide awake and they are reading between the lines. There is no way they will vote into power a President who would be dealt with heavy gloves and punches by his masters."
The Mfantsiman West MP further noted that for Mrs. Rawlings to state categorically on radio that they would no longer treat Mills with kid's gloves presupposed that the NDC flagbearer was in serious trouble, and would act upon the dictates of his masters.
"Here is a presidential candidate who told the nation in 2000 that should he assume power he would consult Jerry Rawlings 24 hours a day.
Today, Rawlings' wife has also dared the same person to choose a running-mate of his choice and see the consequences of not heeding to her. You don't need to be a prophet to know that the country would be in trouble if Mills becomes president," he said.
He disclosed that he had every respect for Mills and lamented that the former law professor had found himself in the wrong political party.
Hon. Asamoah-Boateng said Konadu's statement was very serious and pointed out that Ghanaians would never gamble with their destiny.
The Minister opined that Konadu's remarks had further dwindled the political fortunes of the professor, who would be making his third attempt at becoming a president.
"They tell you being in opposition is hell, so they are desperate for power. They have threatened the nation of another Kenya, and now they are threatening their own flagbearer. They think Ghanaians are fools to give them power," he commented.
'Asabee', as he is affectionately called, said but for its violent and bloody traits, the NDC would have been a great political party.
He pointed out that even though there were some good people in the NDC, they had never mustered the courage to tell the First Couple when they erred, adding that he would not be surprised if some leaders of the party came out to defend or offer some strange explanations to Mrs. Rawlings' recent actions and utterances.
"Even though this is clearly indefensible, they will try to defend it because to them the First Couple is always right," he said.
Nana Konadu, it would be recalled, last week took a swipe at the former Vice President and dared him to pick his own running-mate for the December elections.
She said the professor had since 2000 been treated with kids' gloves, and that had led to political defeats for the party.
Konadu, who is rooting for Mrs. Betty Mould-Iddrisu, lawyer and wife of a strong party guru, threatened that she and her 31st December Movement, an NDC militant women's wing, had something in store for Mills if he dared make a choice other than Betty.
The Kids' Gloves revelation had generated a standing humour in certain political circles, with some observers jesting that it stood for 'KG'.
By Bennett Akuaku