Switzerland Supports Ghana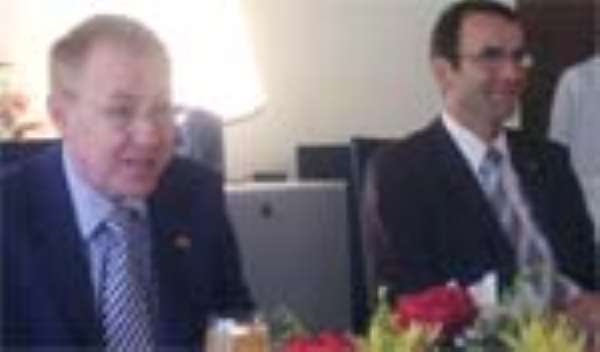 THE Swiss Government through its development cooperation overseas has approved a credit line of $60 million to help Ghana finance its economic and trade policy measures.
The amount, which would be spread over the next four years, is part of the overall total of $800 million allocated to support seven developing countries to attain sustainable economic growth and benefit from increased international economic exchange.
The Swiss Ambassador to Ghana, His Excellency, Ambassador Nicolas Lang, said this last Thursday while briefing the media about some of the ongoing projects aimed at improving relations with Ghana.
Ambassador Lang averred that the objectives of the measures were to integrate partner countries into the global economy and also promote their sustainable growth, thereby ensuring effective contribution to long term poverty reduction.
He said Ghana, which is currently experiencing rapid economic growth and striving towards greater integration into the world economy, needs donor support in mobilizing domestic and foreign investment, and improving basic infrastructure to guarantee stable basic economic conditions.
"The mobilisation of private capital and know-how on-site and in Switzerland is an important principle of Switzerland's development cooperation," he said.
An economic advisor and a counselor at the Embassy, Martin Saladin pointed out that the two countries have enjoyed healthier economic relations adding that Ghana is of regional importance to the Swiss government's priority areas of strengthening competitiveness and trade diversification of developing countries.
He noted that the Swiss government through its Ghanaian counter part has been engaged in areas such as strengthening standards, support to revamp intellectual property rights and a three-year technical assistance programme to develop the leasing sector as a contribution to the diversification of the financial sector.
Mr Saladin, said Ghana has over the years made tremendous efforts in achieving macro economic stability and that the Swiss Government would continue supporting the country in its bid to reduce poverty under the Ghana Poverty Reduction Strategy II.
By Abubakar Salifu & Joss Haynes