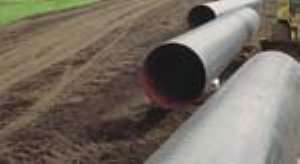 Government says it is still committed to owning 100 percent shares in the Aboadze Thermal Plant though it will pursue the acquisition systematically.
According to Government Spokesperson on Finance and Economy, Kwaku Kwateng, government has not given up as regards its quest to acquire full holdings in the company.
It already owns 50 percent shares as it acquired additional 40 percent shares from the United Arab Emirates Company, TAQA, which Takoradi International Company (TICO), a subsidiary of the Michigan based CMS Energy, offloaded its stake to last year.
Before then, government owned 10 percent shares.
In a telephone interview with CITY& BUSINESS GUIDE, the Government Spokesman said the move to acquire all the holdings was again outlined in the 2008 budget as government made a provision to purchase the plant from TAQA.
In the 2007 budget, government also stipulated in the budget to purchase the remaining shares in Aboadze Thermal Plant though it managed to get 40 percent.
Mr. Kwateng added that the role of Aboadze Thermal Plant is crucial to government's energy programme.
The actual capacity of Aboadze Thermal Plant is 550 MW.
In May 2007, the government re-affirmed its commitment to securing the shares, following the move by CMS Energy to offload its interest in TICO to TAQA without recourse to government, the minority shareholder.

Government thus expressed disapproval of the CMS deal with TAQA, insisting that the deal was done in complete disregard for its rights in the joint venture.
The energy crisis that rocked the country last year pushed the government to compile medium and long term energy programmes, designed to store up the country's energy capacity to a target of 6,000 MW by 2012.
The government had already purchased $90 million equity in the West African Gas Pipeline Project and has begun its flagship programme of constructing the 600 MW Bui Dam Project.
It also plans to invest $ 202 million and $65 million, out of the $750 million sovereign bond raised on the international market in the Volta River Authority (VRA) and the Electricity Company of Ghana (ECG), respectively.
By Charles Nixon Yeboah