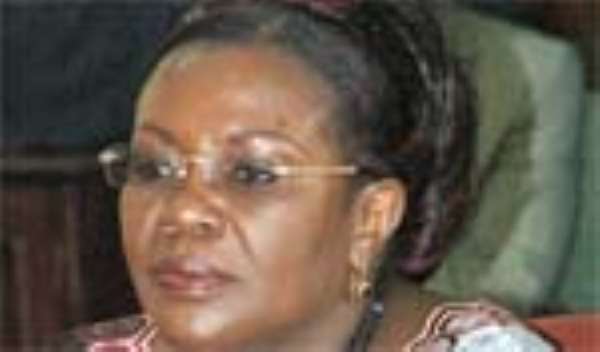 THE ASHANTI Regional Chairman of the New Patriotic Party (NPP), Mr. Robert Amankwah, has commended the Member of Parliament (MP) for Bantama, Madam Cecilia Abena Dapaah, for the effective manner she has championed the development of the constituency within the relatively short period that she has been its representative in the law-making body.
He said the party was proud of the MP, and expressed the hope that she would continue to maintain the momentum set, in order to portray Bantama as the eye of Kumasi.
He said from what had happened in the last three years, it was not surprising that the MP had won the confidence of the people of the constituency in leaps and bounds.
Mr. Amankwah stated this at a reception the MP organized for her constituents at the Kumasi Lebanon Club at Bantama.
Traditional rulers, opinion leaders, political party representatives and other residents of the constituency attended the reception.
Mr. Amankwah stated that the NPP was poised to win more votes in the Bantama Constituency, judging by the good works of the government and the MP.
He stressed the fact that politics was about the people, and as such any leader who neglected his or her people could not prove to be a good leader and was likely to be shown the exit by the electorate.
He noted that as one of the few female MPs from the Ashanti Region, Madam Dapaah had demonstrated the ability of many women to perform when given the opportunity in any capacity.
The Regional Chairman called for unity in the party with the opening of nominations for the NPP parliamentary primaries, and indicated the fact that the NPP thrived on its democratic principles, which was the envy of the opposition.
Addressing the gathering, Madam Dapaah, who is also the Minister of State at the Ministry of Water Resources, Works and Housing, pledged to continue to serve the constituency with hard work, determination and fortitude.
She promised accelerated development for the constituency as she remained their MP.
Madam Dapaah also commended the constituency executives of the NPP for their co-operation and hard work over the years, which had helped maintain the strength of the party in national politics.
She praised President J. A. Kufuor for the excellent work done, and prayed that his good works will surely be continued by Nana Addo Dankwah Akufo-Addo come January 9th, 2009.
The Constituency Chairman of the NPP, Mr. H. K. Kokofu, stated that the executive would work very hard to retain the seat.
By Sylvanus Nana Kumi