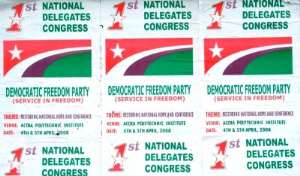 Democratic Freedom PArty (DFP) posters Printing of ballot papers for the election of a flag bearer of the Democratic Freedom Party (DFP) at its first National Delegates' Congress scheduled for today is underway, according to party officials.
Only two members - Alhaji Rahman Issaka, Interim National Chairman and Mr Emmanuel Ansah Antwi, a communications consultant - have filed their papers to contest for the flag bearer slot, spiking speculation that former Finance Minister, Dr Kwesi Botchwey would contest the primary.
In an interview with the Ghana News Agency, Mr John Amekah, Deputy General Secretary in Charge of Finance and Administration, said Congress would also confirm the 21 interim national executive officers who at the close of nomination on April 1, 2008, stood unopposed.
They are: National Chairman, three National Vice Chairmen, General Secretary and two Deputies General Secretaries, National Treasurer and a Deputy, National Organiser and two deputies, and National Public Education Officer and two deputies.
The rest are: National Youth Organiser and two deputies, and National Women's Organizer and two deputies.
Mr Amekah said about 1,400 delegates, five each from the 230 constituencies comprising the Chairman, Secretary, Organiser, Youth Organiser and Women's Organiser, are entitled to attend and vote.
Others are all members of the National Executive Committee, all founding members, all functional regional executive committee members, one representative from each organisation which is a member of the party and two representatives of each External Branch.
The DFP Congress will consider the report of the General Secretary, approve the report and policy recommendations proposed by the National Executive Committee (NEC) and approve the budget for the running of the party until the next Congress as presented by NEC.
Mr Amekah, former General Secretary of Great Consolidated Popular Party (GCPP), said all other arrangements, including internal and external security operations, logistics and accreditation of media and other observers had been completed.
He said the party had also invited the Diplomatic Community, representatives of the other political parties, Institute for Democratic Governance (IDEG), Institute of Economic Affairs (IEA), Ghana Centre for Democratic Development (CDD) and other stakeholders.
Mr Amekah debunked the perception that their flag bearer aspirants were fairly unpopular and political novices, stressing that these were accomplished individuals who had served the nation over the years.