Rail Workers Remove Curse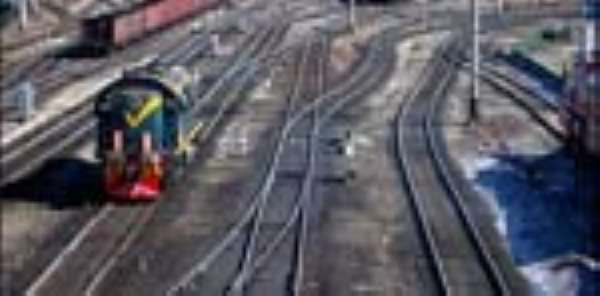 HUNDREDS OF striking railway workers in Sekondi-Takoradi yesterday converged on their 'holy ground' popularly called 'Bottom Tree' at Ketan near Sekondi, clad in white robes and dancing to brassband music to end their two-month strike action.
The workers poured libation at Bottom Tree to renounce a curse they invoked some months ago at which time they had called on the gods to deal drastically with the Minister of Ports, Harbours and Railways should he lie to them on pertinent issues affecting their welfare.
Similar prayers were offered to neutralize other curses invoked on some senior management personnel as well as workers who had clandestinely returned to work after a unanimous decision to embark on that strike action.
Amidst brassband music, the workers marched to the Railway Workers' Union office in Sekondi, where they poured another libation and continued on foot to the railway line at Nkontompo crossing.
The dancing, drumming and brassband music reached their apogee on their arrival at the company's administration offices in Takoradi, where the event ended with yet another libation which was followed immediately by some carpenters and other workers removing some barricaded areas and nails on certain doors.
In an interview with Joseph Kenneth Dadzie, Chairman of the Interim Management Committee of the Railway Workers' Union, he made it clear that it was necessary to revoke those curses now that the way was clear.
He added that since a Memorandum of Understanding (MOU) had been concluded with the authorities concerned as well as government, the workers would report for work today (Friday, 4th March 2008) without fail.
Daniel Kingsford Esso, Secretary of the Interim Management Committee of the Union, said it was good that the workers stuck to their guns in fighting for their rights.
He advised the workers to put in their maximum best and skills at the workplace so that with the joint effort of government, the Ministry of Ports Harbours and Railways, National Labour Commission and other stakeholders, the company could regain its past glory.
He emphasized that each party must judiciously fulfill its part of the deal as contained in the Memorandum of Understanding so that there would be lasting peace.
It would be recalled that workers of the GRC embarked on a strike action about two months ago calling for the immediate removal of the Managing Director, Rufus Quaye and payment of their three-month salary arrears.
They also complained that their Collective Bargaining Agreement (CBA) had not been reviewed since 31st December 2002 and demanded a 150-percent salary increase.
From Sam Mark Essien, Takoradi