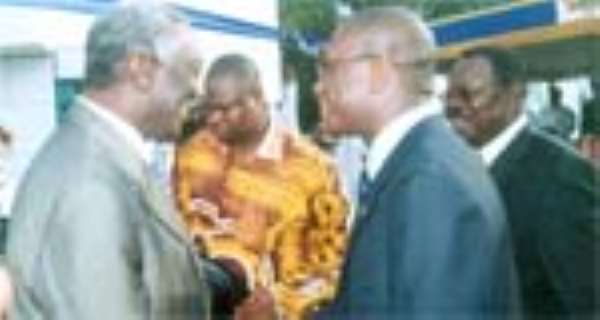 President John Agyekum Kufuor has challenged insurance companies to explore the huge undeveloped market in the sector on the back of the oil discovery.
The new insurance law, he mentioned, has been promulgated by government to improve the operational efficiency and create opportunities that will stimulate further growth of the industry.

The new law, according to him, would guarantee adequate capitalization of insurance companies and deregulate composite insurance companies.
The President said this when he inaugurated a new ultra-modern building on Wednesday in Accra to serve as a corporate head office for Glico Life Insurance.
Located at Adabraka, a business area, the magnificent six- storey building with state-of-the-art facilities, would not only provide a congenial business transaction atmosphere, as a special lounge on the fourth floor offers a cozy ambiance for executives of corporate clients to relax and discuss business.
The occasion, which attracted the crème de la crème in the insurance and financial sector, was also used to outdoor a new corporate logo of Glico Life.

The new Glico logo has red and blue rectangular bars resting on the company's name on a white background.
Before cutting the tape to formally inaugurate the ultra-modern edifice, President Kufuor noted that the insurance industry is vital to the development of the economy and explained that the life insurance industry in particular is a vehicle for mobilizing funds for long-term investment and national development.
He observed that as the national economy "grows and investments increase, especially in the face of the country's recent oil find, demand for high quality insurance products is bound to increase."
At a point, the President noted, "people shied away from life insurance in the face of the country's high inflation which rendered policies almost valueless upon maturity. But those years are gone. The economy is stable and enjoying stability."
He therefore challenged insurance companies to win back the public's confidence by embarking on education and offering affordable and easily accessible life insurance products.
He said it is government's wish that insurance companies would avail themselves to appropriate licenses which would enable them to provide health insurance cover to members of the society who are yet to join the national insurance scheme.
The Deputy Commissioner of Insurance, Nyamikeh Kyiamah, who chaired the function, also advised operators in the insurance sector to take strategic steps that would enable them enjoy maximum advantage of the opportunities under the new insurance law and urged them to operate within the purview of the law while they contribute to the development of the economy.
GLICO, which has expanded over the years, has now established and sponsored other subsidiary companies such as Glico General Insurance Company, Gemini Healthcare Insurance Company, Liberty Investment Limited, Millennium Real Estate Company Limited and Tango Dumasi Cassava Processing.
By Emelia Ennin