Nigeria Chases Ghana Tomatoes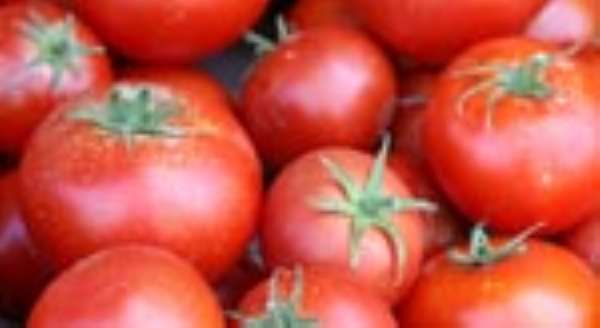 Information reaching CITY&BUSINESS GUIDE has revealed that the Nigerian Government has given Ghana the exclusive right to export one million metric tonnes of tomato paste to the country.
Consequently, Trusty Foods Limited, Italy's largest tomato producer and processor company, based in Tema is collaborating with tomato farmers in the country to enable it take advantage of this deal.
The company had already entered an agreement with the National Farmers and Fishermen Awards Winners of Ghana (NFFAWAG) to support the development of land for the production of fresh tomatoes for industrial uses.
The total land necessary for the cultivation of tomato to feed Trusty Foods is estimated at 5,000 hectares.
Trusty Foods said it was prepared to form an association with the farmers.
A letter of intent written by Trusty Foods to NFFAWAG on March 18, 2008 and chanced upon by CITY&BUSINESS GUIDE stated that "the association would be 51 percent owned by Trusty Foods, 30 percent by NFFAWAG, 10 percent by the individual tomato farmers and nine percent by Ministry of Agriculture".
The letter said the mission of the association shall be to provide fresh tomatoes from all over Ghana's territory in large quantities to feed Trusty Foods.
After the fresh tomatoes have been processed by the company into paste, it would then be exported to Nigeria.
A land had already been secured in the Volta Region, Brong-Ahafo, Greater Accra, Upper East Region, among other regions, to start tomato production by the end of this month.
NFFAWAG is expected to register all the farmers within the production areas into groups and Trusty Foods will sign a guaranteed market contract for all the tomatoes produced by the farmers.
By Felix Dela Klutse