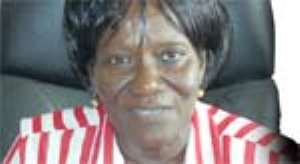 ATO AHWOI, former Energy Secretary in the Provisional National Defece Council (PNDC) military government, is said to have deliberately pulled out his male organ and urinated on Theresa Amerley Tagoe, Deputy Minister for the Greater Accra Region and Member of Parliament (MP) for Ablekuman South Constituency.
"Oh! the Ahwois, these Ahwois, the three of them; oh God! Ato was a contemporary and the other one was a junior.
Ato Ahwoi came to Volta Hall one time when we were going to the dining hall and urinated just on us. You know there is a pond in the Volta Hall; he stood there and urinated on us just like that. Those boys…? Hum. You don't know."
Madam Amerley Tagoe, who would clock 65 on December 13 this year, revealed the shocking episode to DAILY GUIDE and mentioned other renowned persons who were involved.
She also gave intriguing revelations on her person, childhood, school days, family, why she hates to be called the 'Iron Lady', why people envy her, and the reason she is bidding farewell to Parliament.
Theresa Tagoe is an Educationist, a trained Bi-linguist and the Proprietress of Agence D'or Secretarial and Language Training Institute in Accra.
The buzzing tones of fax machines, printers and telephone rings filled her office reception and there were a lot of worried looking people who had queued in the waiting room, wanting to see her; some took catnaps as they waited.
After almost two hours of waiting, DAILY GUIDE was ushered into her modest looking office, where she was seated in a black leather executive swivel chair which rolled, relaxed, revolved and rotated at her command.
(DG): You must be a very busy person.
Theresa Amerley Tagoe (TAT): As you can see, that is the case but in afternoons, there are far more people here wanting to consult me in one way or the other.
DG: What do the people want to see you about?
TAT: Various people come to me for different reasons. Mostly, they want jobs, some want scholarships, money, school fees and all that.
DG: And do you meet their requests?
TAT: Well, with those who want jobs, I give them notes to be taken to companies, if they could be employed. You see students wanting money to pay their school fees and when I can afford, I give it to them.
The request for fees used to come from JSS and SSS students but this year, a lot of such requests came from students in the tertiary institutions. I had to use a large amount of my common fund to sponsor people's education. I try to help because of the value I place on education.
DG: They must be very appreciative, I suppose?
TAT: You know what, the youth appreciate it much but what I do for the women and adults is the sad thing.
People insult me in the face even when the very clothes they are wearing to insult me are clothes I bought for them at Christmas.
And the men, like my chairman, supposed chairman and the executives are also not appreciative at all.
But this is due to the fact that they envy me; it is all envy and nothing else. It is sad when the very people you looked after, now envy you.
There was a time one of such persons insulted me and another woman who was present gave him a heavy slap on the face in response.
DG: Why was he slapped?
TAT: Because he was having a very big hernia between his legs and you know what, the woman who slapped him nearly pulled the hernia off. She asked him if he was the one insulting me after I had catered for him at the hospital because of his hernia.
For instance, there is not a single one of my executives I have not done anything for; yet they do not appreciate it. When I think about it, I conclude it is nothing but envy.
DG: Why would people envy you?
TAT: I do not know but probably it is because they think I have money or they think I am getting something they are not getting; so they envy me. But that is how the world is, you know? That is the world for you.
DG: Does it weigh you down?
TAT: Not at all. I was born and grew under certain circumstances that such things can never weigh me down; so I am used to that and I am not worried. I really suffered when growing up.
DG: Where were you born?
TAT: I was born in Apedwa but I lived in Accra.
DG: Who were your parents?
TAT: My father was a government school teacher and he died very early when I was a child. My mother is from Heman in Kyebi. I lived with my grandmother in Accra and we were a lot in the house.
So I started school in Accra at St. Mary's; not the one in Korle Gonno. This is another one; a primary school, I think.
From there my mother took me to Adabraka Presby School and latter I was taken to Odumasi Krobo to attend a boarding school there.
From there, I attended Aburi Girls Secondary School and continued to the University of Ghana, Legon, where I did Social Science. I studied Political Science, History and Sociology
DG: Any memories of your late father?
TAT: Yes. He was a headmaster and when going to school, he would dress me in a male uniform: a short and a shirt, and put me on his bicycle and ride to school.
He would then sit me in the classroom and give me work to do.
DG: Tell me about your family.
TAT: I have two boys who have both completed the university; the first one is in the United States. He studied IT and works with the Fidelity group of financial companies. He is married with two children: a boy and a girl. A very fat boy and a very fat girl, they remind me of my mother.
The last one is here in Ghana and wants to be on his own. He did Engineering and had his Masters in that field.
DG: Who is your husband?
TAT: I do not have a husband.
DG: Are you saying you do not have a husband anymore?
TAT: No, no. I never got married. But I have children.
DG: Have you heard people call you the 'Iron Lady'?
TAT: Yes, they do; but I do not like it and I try to stop them. When a man is strong, people do not call him 'Iron Man' so why do you refer to a strong woman as 'Iron Lady'?
I do not like it at all; I am telling you. I am a woman and I think I am pretty, I am intelligent and I am everything that I should be. But people should not call me names; you do not call men names. I do not like it.
DG: You must be religious, considering the things in your office: a crucifix and Christian literature.
TAT: Oh yes. I am a Christian and I believe in Jesus Christ. He is everything to me.
Some people are quarrelling with me up till today because they have asked me to buy schnapps and invited me to follow them to all sorts of places to do all sorts of things, but I have always said no and that annoys them.
My grandmother taught me to believe in God and I have said that God would cause the fishes in the sea and the stones on the ground to vote for me, if no one would vote for me.

DG: When did you get involved in politics?
TAT: At school. We were very active politically on campus and formed the students' wing of the Progress Party (PP). Those were the Junior PP days. When the Nkrumah coup happened, we beat CPP people like Modibo and Lee Ocran. We would put water in rubber bags and pelt them properly.
DG: Why?
TAT: Because they had been very tough on us. Look, I remember there was a time I was there at a dance when one CPP boy, I do not want to call names, but this CPP boy wanted the girlfriend of another boy who was not a CPP member, so he, the CPP boy, went and grabbed the other guy, slapped him, beat him up properly and took the girl away simply because he was CPP and his government was in power.
When the case got to the police, Kweku Baako's father, Kofi Baako, who was then a CPP Minister, went to the police station to take the culprit away. They were that powerful.
DG: As a female student, were you that strong?
TAT: Ei! My group was powerful. When we went to Legon, I was first sent to Mensah Sarbah Hall but the men were very rough to me.
Kwesi Botchwey and the rest; the Ahwois, oh! (chuckles, laughs and shakes the head). We were contemporaries in Legon and they really troubled us.
When I was walking, they would also be walking right behind me and making all sorts of comments. They were jumping into the bedrooms of the few ladies who were there, so we were sacked and sent to Volta Hall.
When we got to Volta Hall, the girls there were behaving like ladies (you know that sort of thing); and they hand-picked their leaders. But when we got there, we said no way!
So I, Joyce Aryee and others formed a political group in Volta Hall and started campaigning. At the election, our party won.
Oh! The Ahwois, these Ahwois, the three of them; oh God! Ato was a contemporary and the other one was a junior. Ato Ahwoi came to Volta Hall one time when we were going to the dining hall and urinated just on us.
You know there is a pond in the Volta Hall, he stood there and urinated on us just like that. Those boys…? Hum. You don't know.
DG: And how did the NPP thing come in?
TAT: Well, between school and 1991, a lot of things happened. Even during the period when party politics was banned in Ghana, we were attending secret meetings and I was the only woman involved.
People were afraid for me. B.J. da Rocha was the chairman; Hackman Owusu Agyeman was there, Busia, Osei Bonsu and Agyenim Boateng were all attending the meeting and I was the only female involved.
I had to start the women's wing of the Danquah Busiah group and we joined our leaders on a lot of big demonstrations after the stolen verdict.
I remember one of those demonstrations when the then government wanted to beat me up and mistook another person for me. It was a lady who was acting as my security. They caught her and properly beat her up.
I was only lucky. We went to many places and I saw a lot of women in bad conditions; for example, pregnant women carrying loads on their way from the farm when their husbands lazily hold on to a small cutlass and walk along.
That was one of the things that pushed me to go to Parliament to help women because that is where the laws are made.
And what you should know is that for all the three terms I was in Parliament, I had never won with the support of my executives.
I remember that they asked me to give them an amount of three million to do some campaign and I was in my house when somebody phoned me that the very people I gave the three million cheque to were seated in a beer parlor calculating how to share the money among themselves. Finally, I had to cancel the cheque at the bank. They got angry and went to join the CPP but I still won.
DG: Would you return to Parliament?
TAT: No.
DG: Your supporters would not be happy.
TAT: They may not be happy but I cannot help it. My children cannot stand the abuses I receive; maybe they are not as strong as me and now they are growing and getting families so I must listen to them.
DG: Are you saying your children are the main reason why you would not return to Parliament.
TAT: Yes. They have warned me on it and that is why the younger one has come to stay. As soon as they hear the insults I receive on radio, they get mad. They are not happy at the way people are not appreciative of the good things I do for the community.
Even my brothers are not happy and have asked me not to return to Parliament.
DG: What is the Amerley Tagoe legacy you are leaving for your constituency?
TAT: A lot of things; I cannot mention all of them. All the public schools in the constituency are being walled, I have established a vocational school for them because there are a lot of young people who were not having jobs in the constituency and I needed to do something for them.
By building a vocational school for them, they can get some employable skills. It is called the Ablekuman South Vocational Institute.
I built the school in 2001, so you can imagine the number of people we have trained. They do cakecraft, catering, dressmaking, tie and dye and I have the equipment to teach carpentry, but I do no have a teacher.
I pay the teachers from the little money I get.
DG: People say you are arrogant and rough.
TAT: Arrogant? I am very surprised at that. Me, arrogant? No.
DG: I read in the papers that you once used your slippers to slap a party member.
TAT: That was a big lie. Other chairmen asked him if I had truly beaten him and he said it was Sammy Crabbe, the Regional Chairman who asked him to say that.
DG: How do you spend your free time?
TAT: I sleep and that is mostly on weekends. I do not come out of the house at all.
DG: Your message to the women of this country.
TAT: What I would want to tell them is that if we really want to help women, then we the women should go to Parliament.
The abuses would come but we should be brave enough to stand it because we can only take over a lot of things and be respected when we become part of the law makers of the land.
That is when we can really effect a true change.
DG: I deem it a privilege talking to you.
TAT: Thank you very much.