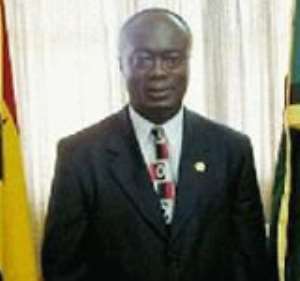 As the opposition National Democratic Congress (NDC) maps out strategies to win the December 2008 polls, New Patriotic Party (NPP) Member of Parliament (MP) for Asokwa, Mr. Maxwell Kofi Jumah, is calling on Ghanaians to reject the NDC saying, "they have nothing new to offer Ghanaians."
According to him, the NDC is desperate for power but that will elude the party because Ghanaians are discerning and will retain the NPP based on its performance over the past seven years. Speaking to The Daily Dispatch at Atimpoku in the Eastern Region at a workshop organised by the Institute of Economic Affairs for the media and political party leaders, Mr. Kofi Jumah said the NPP will articulate its views and vision and believes the party's message will go down well with the masses.
The MP noted that the solid foundation laid by President Kufuor has prepared the grounds for economic liberation for the country.
"We have ensured that Ghana is a country which offers hope and we are going to ensure that the average Ghanaian will enjoy life. Ghana is a country that led Africa in political liberation and we will do everything possible to ensure that Ghana also leads in economic liberation. This is the kind of Ghana that the NPP is offering so that people will see affluence in their lives," he said.
Commenting on the water crisis in some parts of the country, the Asokwa MP said the former regime (NDC) didn't do well in infrastructure so the current government is making up for the deficits and that has in a way contributed to the water problem.
"If they had developed water system that could take care of 21 million people at the time they bought the Gulfstream III we wouldn't be talking about water crisis now." He stated that the NPP has provided more water for Ghanaians than any government in the history of this country and therefore it is hypocritical for anyone to accuse the government of not providing enough water to meet the demand.
He Indicated that although the water crisis persists, government is seriously working to solve it, adding "when solving problems like water it doesn't take a night to solve it."
Touching on his chances at the Asokwa Constituency in the Ashanti Region, Mr. Kofi Jumah said he is confident of winning the seat. He explained that primaries were yet to be conducted but he will beat all who will file to contest the seat on account of his good stewardship over the past four years.