Swiss Envoy Calls on Information Minister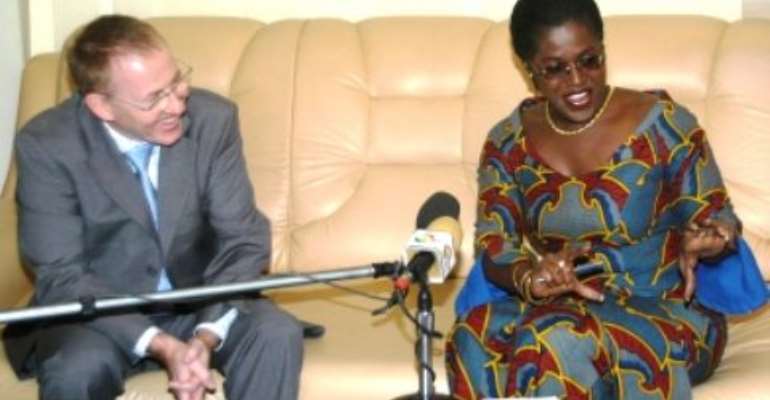 Hon Minister for Information and National Orientation, Mrs Oboshie Sai Cofie, making a point while H.E. Ambassador Nicholas Lang listens with admiration H. E. Nicholas Lang, Swiss Ambassador to Ghana, has expressed the confidence that Ghana would live up to her reputation as one of the democratically matured nations in Africa, come the December 2008 general elections.
'Despite the unfortunate incident that followed Kenya's national elections last year, the international community is convinced that Ghana can live up to her bill of a solid democracy,' he noted.
The Ambassador made these remarks when he paid a courtesy call on the Minister for Information and National Orientation, Mrs. Oboshie Sai Cofie, at her office in Accra today. He said the visit was to enable him to strengthen the existing bilateral relations between Ghana and Switzerland.
Ambassador Lang noted that a political atmosphere in a country is a landmark test in building positive investor-friendly conditions, adding that Ghana has successfully created 'such an environment that is conducive for foreign investment.
He observed that potential investors will be closely monitoring this year's political scene in Ghana so as to make decisions to invest in the country or not; saying 'if the economy has to grow, politics has to be solid.'
The Ambassador, who has been in the country for almost a year, re-iterated the crucial role of the Information Ministry in ensuring a successful December polls. He said MINO has an important role to play in making sure that people get to know of the situation leading to the run-up of the elections.
Responding, Mrs. Oboshie Sai Cofie, first thanked the Ambassador for the visit and assured him of her Ministry's collaboration with the media and the people of Ghana to ensure that the December polls would progressively be an improvement upon the previous four elections so far held in the country.
The Minister said 'the country would be able to deliver results that would be the pride of the international community.'
She noted that although her Ministry has been accused of abuse of incumbency in terms of advertisement, the sector would not relent on its mandate of 'properly educating and informing the people of Ghana as well as market government's policies through various creative ways.
The Minister pointed out that the Ministry has been embarking on public education campaigns on national projects and programmes such as the National Health Insurance Scheme (NHIS), the Capitation Grants, School Feeding Programme, Education Reform, Livehood Empowerment Against Poverty and others, adding that the successes chalked up through these innovative means would be maintained , sustained and built upon.