Nana Tipped Again• Nduom Second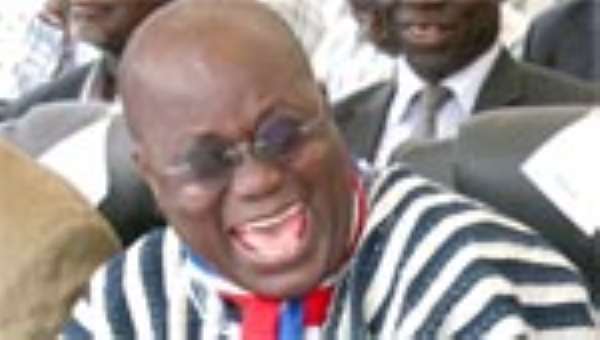 Less than three weeks after he was named as the most likely person to succeed President Kufuor when he leaves office in January next year, Nana Addo Dankwa Akufo-Addo has once again been tipped by another research group.
The latest group to conclude that the 63-year-old New Patriotic Party (NPP) presidential candidate has the best chances of being the next president was Ghana Elections '08 Polls Group.
Earlier on, Euroasia Group Limited of America named the Abuakwa South Constituency MP as being ahead of the National Democratic Congress' (NDC's) Prof. John Evans Atta-Mills.
The greatest surprise in the latest survey, which was conducted on the Internet, was that the Convention People's Party (CPP) presidential candidate, Dr. Paa Kwesi Nduom, made one of his strongest showings ever, beating Prof. Mills to a third place.
Akufo-Addo got 39.3 per cent of votes from likely voters, placing him some ten per cent points ahead of the NDC flag-bearer, who polled 29.9 per cent. CPP's Dr. Nduom had 30.8 per cent.
Kwesi Amofa Yeboah of Ghana National Party polled 0.9 per cent while Dr. Edward Mahama (People's National Convention) had nothing.
The survey, primarily posted since January this year was not limited only to users of Facebook, a popular social networking site; but was also made available to users of hi5, which is popular among Ghanaians living in and outside the country.
While about 93.7 per cent of respondents said they were Ghanaian citizens, 71.8 per cent of them said they were registered to vote in the country. Only 28.2 per cent of them said they were not registered voters.
On the performance of the Kufuor administration, 40 per cent of the respondents said the President was doing a good job whiles 45 per cent said he was not doing a good job.
However, when respondents were asked whether they needed a president that would continue with Kufuor's policies, only 39.6 per cent supported the idea.
About 64.4 per cent of respondents also said they were more likely to vote on issues and policies, than the quality of a candidate, for which 43.3 per cent gave their consent.
Generally, the survey was popularized among internet users worldwide where a Ghanaian community was deemed to congregate. Social networking sites have been accepted by researchers and the academic community as part of modern mass communication methods, as it was built on behaviour influence, social control and promotion of participatory democracy.
According to the research, internet use can help reach traditionally hard to reach people and enhance political engagement and dialogue.
The Ghana Elections '08 Polls Group is an initiative which provides up-to-date results on voter preferences and the public's feelings towards candidates and the political process in Ghana.
Since the initiative is independent, non-partisan and invites participation from all interested parties solely on the internet, survey answers are anonymous.
It would be recalled that the Euroasia Group, a couple of weeks ago released a report, tipping Akufo-Addo of winning the December presidential elections.
The report, dubbed 'Ghana Outlook' and released on 7th February, 2008, was compiled by credible analysts, including Mike Davies, Philippe de Pontet, and Sebastian Spio-Garbrah.
It noted, however, that there is the likelihood of a photo-finish, especially if the Convention People's Party (CPP) polls above ten per cent of the total valid votes cast.
The team of five analysts which compiled the Ghana Elections '08 Polls Group included Etse Sikanku, Basil Mahayni, Karin Brandt, Atsu Sikanku and Delali Dei.
By Bennett Akuaku