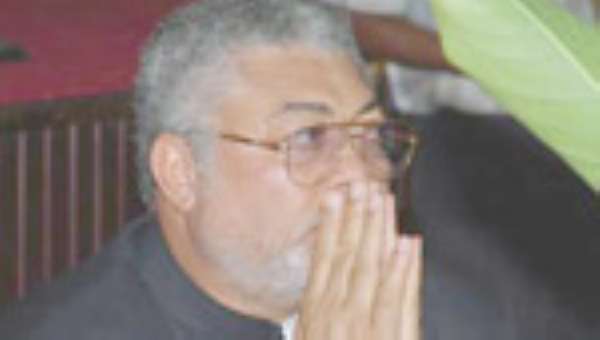 •With Azoka Boys
Former President Jerry John Rawlings and his wife, Nana Konadu, are at the throat of the National Democratic Congress (NDC) flagbearer, Professor John Evans Atta Mills, daring him to name a running mate for the December presidential elections other than Betty Mould-Idrisu.
This followed a publication yesterday that Prof Mills had settled on the MP for Bole Bamboi and former Communication Minister, John Dramani Mahama, as his running mate.
Speaking separately on Peace FM and Joy FM in Accra over the publication, an agitated Nana Konadu Agyeman Rawlings said unlike the 2004 elections in which Professor Atta Mills was treated with kids' gloves and given the free hand to do what he liked, this time around the NDC presidential candidate would not be allowed do his own thing.
She explained that the former Vice President would be pushed until he conformed to the desires of the party owners- the Rawlingses, pointing out that a lot was at stake in this year's elections.
"I think they were treating him with kids' gloves in 2004 and allowed him do what he wanted. This time, it must be different because this year's election is a crucial one," she said.
The NDC flagbearer was said to have settled on John Mahama, Communications Director of the party, but Nana Konadu said the equation had changed and Betty Mould-Idrisu was the new kid on the block.
The former First Lady revealed that she would have joined the group of women protestors that demonstrated on Monday in favour of the aspiring woman running-mate if she had been informed early enough, stressing that the flagbearer's choice would not be automatic.
According to her, whoever the professor names would be scrutinized by the National Executive Committee (NEC) and Council of Elders of the party, adding that it was not true that John Mahama had been approved.
"We must do things properly. Atta Mills can only nominate and when he nominates, he takes it to the Council of Elders and NEC to do their deliberation before he can say this is the person I want. For now, that has not been done," she charged.
The former First Lady debunked the assertion that Mr Rawlings had been briefed on the choice of Hon Mahama.
Virtually describing the Bole/Bamboi MP as inconsistent, she noted that John Mahama had, since August last year, dribbled the party leadership whenever he was approached over the issue, giving all forms excuses including going abroad to study for his PhD.
Mrs. Rawlings recalled how in 2004, her husband opted for John Mahama but Mills insisted on Alhaji Mohammed Mumuni.
She said even though many leading members were not comfortable with Mills' choice, he was allowed to have his way, stressing, "look where it ended us".
It would be recalled that Alhaji Mumuni, former MP for Kumbungu crashed into a ditch barely four days after being named running mate to Mills and hopped on clutches for the rest of the campaign period, with sarcastic suggestions that he only succeeded in adding Andani votes to the ticket.
Sounding combatant, Konadu argued that Betty Mould-Idrisu would fetch the party more votes than Mahama and Mumuni put together.
"Politics is a game of numbers. We are talking about numbers here and I know that if Betty is brought on, we will be able to get many, many more numbers coming our way in the Ashanti area and other Akan areas than any of the two men that you are suggesting," she said.
When called to react, Professor Mills, speaking with a very timid voice, said he would not comment on Mrs. Rawlings' allegations that he was treated too softly in the last election.
He however admitted that he would be a fool not to listen to the advice of the NEC and Council of Elders, insisting that he had not settled on a choice yet.
The professor conceded further that whoever he eventually names to partner him would have to bring in votes and contribute to his expected victory.
He also advised that whoever was talking about factions rooting for a particular person to partner him, must not forget that Mills too had a faction.
It would be recalled that the Greater Accra Regional First Deputy Women Organizer, yesterday led a group of NDC women supporters to demonstrate and impress upon the NDC flagbearer to pick Betty as his running mate, contending that she had what it takes to attract floating voters.
Implying that he had the concerns of women at heart, Mills assured them that should he become president, 40 percent of his cabinet would be made up of women.
Meanwhile, hundreds of NDC supporters in Tamale, the Northern Regional capital, led by the dreaded Azorka Sofo, yesterday took to the streets, saying the choice of John Mahama would be disastrous because he is not a Moslem.
For now, the hands of Professor Mills seem to have been tied as both his former boss and his wife have an unchallengeable voice in the nation's largest opposition party.
By Bennett Akuaku