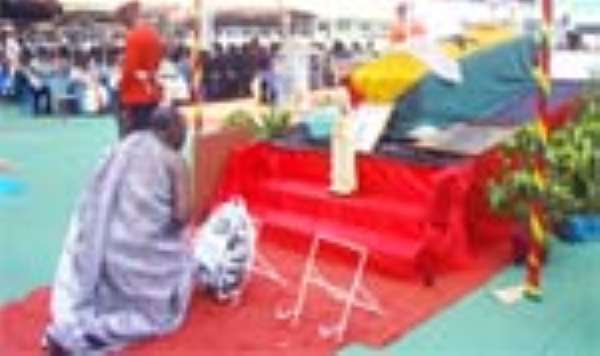 CARDINAL PETER Porokuu Dery was on Tuesday laid to rest at the 'Our Lady of Apostles' (OLA) Cathedral in Tamale.
In his homily at the burial mass held at the new Tamale Sports Stadium, the Metropolitan Arch Bishop of Kumasi, Rt. Rev Peter Akwasi Sarpong described him as a religious man who transcended all boundaries in the country, and commended him for being the first Dagau to become a catholic convert, priest, Bishop, Arch Bishop and Cardinal respectively.
This, according to him, made the late Cardinal a pacesetter in the country, treading the very foot steps of Jesus Christ.
His initiatives in the building of schools, provision of potable drinking water and various interventions in deprived communities, Rt. Rev. Sarpong noted, were highly acknowledgeable.
He said Cardinal Dery's zeal for religious and national duties earned him a great deal of respect as he was the most effective President of the Catholic Bishops Conference for two consecutive terms.
Rev. Sarpong also commended the government for its decision to re-introduce Religious and Moral Education (RME) a day after the Cardinal passed away.
Bishop Sarpong called for peace in Dagbon as it had been eroded for sometime now, and appealed to the chiefs and people of Bawku to end their useless, bloody acrimony that had derailed development, charging all to imitate the good qualities of the late Cardinal.
Present at the ceremony was President Kufuor, his Vice, Ministers of State, Members of Council of State, heads of various political parties, the clergy and thousands of mourners from across the country.
Cardinal Peter Porokuu Dery died on the evening of Thursday March 6, 2008 after a short illness.
Born on the 18th of May 1918 and baptized the first Catholic in the then Upper West Region, he was ordained a priest in 1951 in Nandom his hometown in the same region after a successful completion of his course of study at St Victor's Major Seminary then in Wiaga.
The late cardinal was posted to Nandom Parish as a curate and later as the local manager of schools.
He was on May 8 1960 ordained a Bishop where he supervised the newly created Wa Diocese of the church.
The late Cardinal was a Council of State Member in 1972 for seven years and a member of the Advisory Panel for the eventful rehabilitation of the Basin for Agriculture ; a World Bank Project.

In 1974 he was transferred to Tamale till his retirement on June 30 1994.
After his retirement, he settled permanently in Tamale and supported the current Archbishop Gregory Kpembaya.
Later in 2006 he was elevated and canonized the Second Cardinal in Ghana by the Vatican in Rome.