Suspect Bolts •From Court Room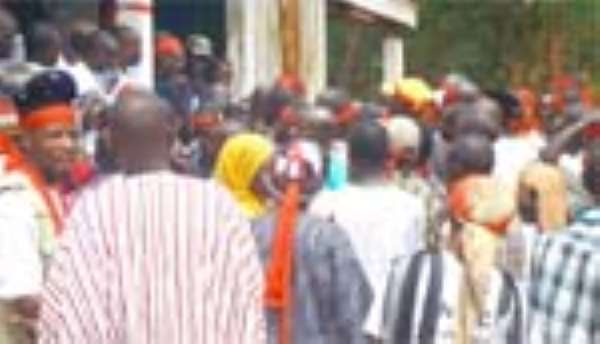 MOHAMMED ALI, standing trial with four others for possessing fake currency, yesterday stunned the Takoradi Circuit Court "B", when he unexpectedly bolted from the court room and had to be given a hot chase by the investigator for nearly 15 minutes before being re-arrested.
After the 37-year-old suspect had been re-captured near Chapel Hill in Takoradi, some 500 metres from the court premises by Detective Sergeant Charles Azalekor, people in the court premises had to be restrained by the few policemen from lynching the escapee.
Ali, who was immediately charged with escaping from lawful custody, pleaded guilty when he was put before Takoradi Circuit Court "A" presided over by Mr. Kwesi Boakye.
The judge made it explicitly clear to the convict that he was to serve the three months' prison sentence before any court of competent jurisdiction would try him separately on the offence of possessing fake currency.
The court accordingly convicted the accused on his own plea to three months' imprisonment after Inspector Theophilus Agbemordzi, the prosecutor, had presented the facts of the case to the court.
He said Ali suddenly took to his heels while the police investigator and another policeman were making preparations to send him and four other accused persons, charged with possessing fake currency notes, to police custody after the case had been adjourned by a Takoradi Circuit Court "B".
"Yes, it is good to be a sprinter and fast thinker when the unfortunate happens. I was really hot, but God helped me grab Mohammed Ali," the investigator told DAILY GUIDE.