Tomato Farmers, Trusty Foods Sign MoU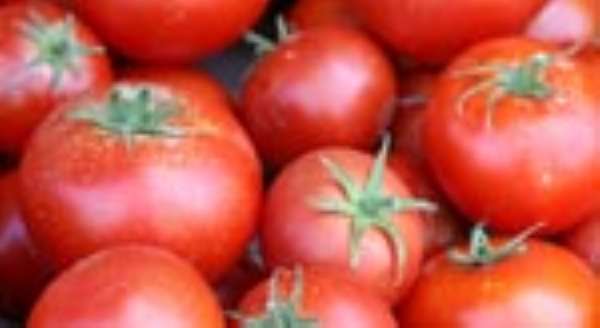 Tomato farmers in the Upper East Region have shun the management of Northern Star Tomatoes Factory and decided to sell their produce to Trusty Foods Limited directly.
Trusty Foods, Italy's largest tomato producing and processing company, is based in Tema.
The tomato farmers said they are no longer interested in dealing directly with the management of the Northern Star Tomatoes Factory because since its inception last year, the company has not been fair in its dealings with them.
Market women popularly referred to as Tomato Queens, currently buy the big sized crate of tomatoes at prices ranging from GH¢35 to GH¢40, but the farmers said they were prepared to sell that same crate of tomatoes to the factory at GH¢15, yet the factory's management had refused to understand their position, insisting on paying GH¢11.40 for a crate of tomatoes.
Now, Trusty Foods after receiving the fresh tomatoes from the farmers at the factory premises in the Upper East Region, would then send it to the factory for processing into tomato paste.
In order to seal the deal between the tomato farmers and Trusty Foods, a memorandum of understanding (MOU) has been signed between the National Farmers and Fishermen Award Winners of Ghana (NFFAWAG) and Trusty Foods on March 28, 2008.
A copy of the MOU which was made available to CITY&BUSINESS GUIDE, mandated NFFAWAG to supply fresh tomatoes to Trusty Foods from March 31 this year through six NFFAWG groups in the Upper East Region.
The groups include Kassena Nankana Youth, Bolga Youth, Vee Youth, Chuchuliga Youth and Zebilla Youth NFFAWAG.
According to the agreement, a kilo of tomato would be sold at GH¢125.
Both parties also agreed that there should not be any intermediary between the farmers' groups and Trusty Foods.
"Farmers' duty ends after delivery of tomatoes to the factory premises and they are indemnified against any losses after delivery," the MOU stated.
The agreement further states that "all transactions would be made through NAFFAWAG approved leaders only."
Trusty Foods, on the other hand, have agreed to pay for the tomatoes within five days after the delivery and would also pay transportation costs directly to farmers' associations to be disbursed to the farmers.
"Any default in payment by Trusty Foods after seven days from the date of supply would attract interest of two percent on the amount outstanding per day," the MOU noted.
By Felix Dela Klutse