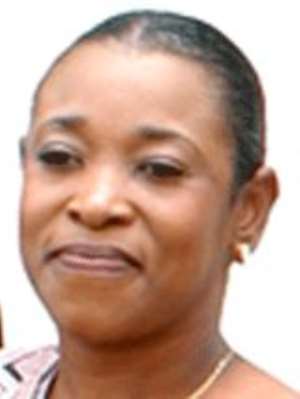 The Member of Parliament (MP) for Weija, Ms Shirley Ayorkor Botchwey, had been returned unopposed as the New Patriotic Party (NPP) candidate for this year's general election.
By the close of yesterday, which was the deadline for the collection of nomination forms for primaries of the NPP, nobody had picked a form from the Weija NPP Constituency office to challenge the incumbent MP.

The Chairman of the constituency, Alhaji Issah Tasiru, made this known to newsmen when Ms Botchwey submitted her nomination form to him at Weija yesterday.

There was wild jubilation by the constituency executive, polling station chairmen and some supporters of the party who had converged on the office to witness the filing of the nomination by the MP.

Not even the downpour could deter the enthusiastic supporters from being part of the occasion.

Four years ago, the contest was characterised with court actions and it was, therefore, not surprising that when Ms Botchwey emerged to submit her nomination form, the gathering burst into chorus, "Naa Ayorkor, naa Weija, Naa Ayorkor, naa shuo, naa Nana, naa shuo."

Alhaji Tasiru told the gathering after the MP had submitted her nomination that "this is the prize good MPs receive when they stay in touch with their people".

He said it was unfortunate that some MPs distanced themselves from the people who voted for them and, therefore, advised such MPs to learn from the shining example of the Weija MP.

"If all MPs will work in harmony with their constituency executives and polling station chairmen, they will have no problem when it comes to filing their nomination again," he said.

Ms Botchwey thanked the constituency executive, polling station chairmen and the party's supporters for their support and appealed to them to worked hard to retain the seat.

"My goal is to get not less than 100,000 votes to retain the seat, come December this year," she said, and called on the supporters to preach the good work of the NPP to the people.

She asked parents to encourage their children who had attained the voting age to register when the Electoral Commission opened the voters register in May, this year to enable them to exercise their franchise during the general election.