Railway Workers Besiege Court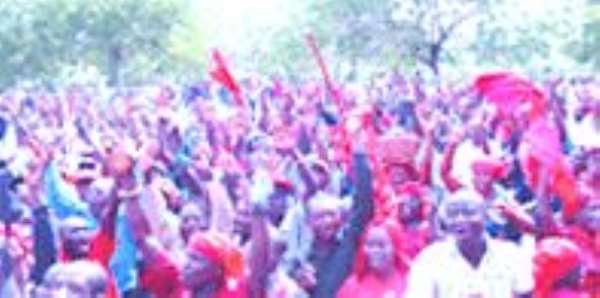 Hundreds of railway workers yesterday besieged the Sekondi High Court to show solidarity with their union executive who had been dragged to court by the National Labour Commission (NLC).

The court action was resorted to by the NLC to compel the striking workers who have been on strike for more than a month now to resume work.

The workers were given an ultimatum by the NLC to go back to work but they refused and the commission went to court to seek an order to compel them to resume work.

The striking workers are demanding a 150 per cent salary increase, the exit of their current managing director, as well as the payment of all salary arrears, before calling off their action.

Pandemonium broke out in the court room and on the premises of the High Court after the announcement that the case had been adjourned.

The police had a hectic time controlling the jubilant crowd, some of whom wore red armbands and carried placards.
As early as 8:30 a.m., the court premises, which is normally a quiet place, was agog with the rail workers who had converged there in their numbers, amidst drumming and dancing.

The court room was packed and those who could not find space there occupied the corridors that led to the entrances of courts One and Two.

The NLC was represented by Ms Efiba Amihire, while the rail workers were represented by three lawyers — Messrs Joseph Abeka, Asempa J.K. Mensah and A.H. Bodza Lumor.

After the submission by the counsel for the NLC, his counterparts for the executive members of the rail workers prayed the court to adjourn the case to enable them to prepare adequately.

In his response, the judge, Justice Anthony Oppong, said the issue was of a national interest and that since the application was short served, it was important that the parties were given more time to adequately prepare for the next hearing.
The parties agreed on Wednesday, April 9, 2008.

In a statement, the Secretary to the interim committee of the workers union, Mr E.K. Esso, said the NLC should find a way of convincing the workers to go to work.

"Had it not been for this court issue, I can assure you that the workers should have been at post," he said.

"We have managed to talk to them and we were getting their confidence, only for the NLC to go to court. It is sad; we are not happy that things are going on this way but if that is how they want to resolve the case, so be it," he added.

Story by Moses Dotsey Aklorbortu,