Dad, Son Raped Me•Says Girl, 15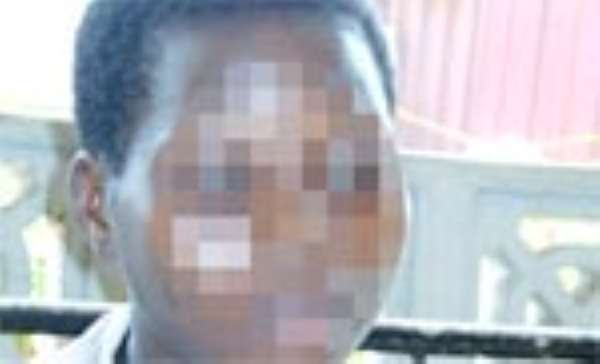 A 15-YEAR-old class three girl is carrying a six-month pregnancy she blames on both the husband and son of her maternal aunt.
The pregnant minor, Rebecca Dadzie told DAILY GUIDE that she lost her mother at a very tender age and was staying with her aunt at Anomabo in the Central Region when the aunt's husband, and 18-year-old son forcefully subjected her to several agonizing sexual bouts that were interlaced with slaps and beatings.
So severe was the ordeal that the continuing nature of it compelled the girl to leave home, and not having anywhere to go, start sleeping at the beach.
"When I told my aunt that Dad covered my face with a pillow and forcefully had sex with me, she said I should keep quiet and warned me not to tell any other person. But by then, I had already told my friend, Menaaba because she heard me when I was screaming for help and when she asked me what was happening, I told her that Daddy was having sex with me in his room.
"Menaaba reported what I had told her to my aunt who got very angry with me for telling another person. Meanwhile, her husband kept demanding more sex; he would come into my room at night to struggle with me asking that he wants to have sex with me.
"When my aunt's son, Ato, returned from Kumasi, he also did the same thing to me and when I again told my aunt, she got angry and warned me to keep quiet. So it got to a time I did not know what to do", Rebecca told DAILY GUIDE at Bubuashie where she resides with a foster family.
The 15-year old said between father and son, she was not certain who actually impregnated her, as the two did not use any condoms.
She said apart from the two, no other person had had sex with her.
When asked to explain the circumstances under which the incidents happened, she said her virginity was broken by her aunt's husband who she referred to as "Da" meaning father, and that the man one day called her into his bedroom to run an errand for him. Suddenly he locked the door, stuffed her face with a pillow, nearly suffocating her in the process, and forcefully had sex with her. Since then, he had always demanded more sex.
Rebecca said the aunt's son, Ato, on his part, after violently pulling her into the same room in which his father had raped her, did not cover her face with a pillow, but dished out several hefty slaps, beat her up to weaken her resistance and had bouts of sex with her.
She said at another time, Ato entered her room with an excuse that he had been asked to search her body to see if she was keeping any stolen money and though she resisted, he forcefully started the search during which he fondled her, pinned her down and forcefully had sex with her, as she shouted for help which never came.
Rebecca said both father and son kept pestering her for more sex while her aunt warned her to keep the ordeal to herself, and when she refused, the aunt became hostile to her even to the extent of seizing her school uniform.
She thus had to stop school and finally decided to escape from the house.
She was brought to Accra by a Good Samaritan who gave her out as a house help to a foster family and it was during her stay in Accra that the symptoms of pregnancy started to show.
The new family took her to the hospital for a pregnancy test which proved positive and upon interrogation, Rebecca narrated her ordeal.
Rebecca said she had never experienced menstruation before the sex bouts with her relatives, and never knew she was carrying a baby until the doctors made her aware of her situation at the hospital.
Her foster parents told DAILY GUIDE that they had informed Rebecca's relatives of the development but they had not shown any concern, and refused to honour their promises to come over to Accra to visit the girl and consider what options were available to them.
The foster father described Rebecca as an exceptionally obedient child who was equally hard working.
Rebecca Dadzie's case- a sad one of defilement, incest and assault- is yet to be reported to the Police.
However, her family was said to be making moves to take her back to Anomado outside the prying eyes of the media and law enforcement agencies.
By Halifax Ansah-Addo