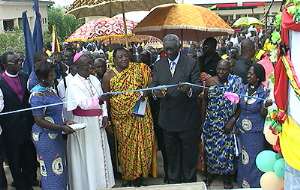 President Kufuor cuts tape and unveilled plaque to inaugurate the Methodist Special School at Hemang in the Kwabere District in the Ashanti Region President John Agyekum Kufuor has called on school authorities and teachers to be cautious in exposing children to the internet. He said the internet did not discriminate in information transmitted and asked managers of the facility to do the differentiation.
President Kufuor was speaking at the inauguration of the Hemang Methodist Model School and the launch of the Hemang Kwabre Development Endowment Fund at Hemang near Mamponteng in the Kwabre District in the Ashanti Region last Saturday.
The President said it was gratifying to note that the first phase of a project in the town comprised the provision of nursery, primary schools, and an Information and Communications Technology (ICT) as well as staff accommodation was funded through resources provided by Naachia Plant Pool, the Methodist Church, philanthropists and the people of Hemang community.
He indicated that the project was one of the increasing self-sponsored programmes to complement government's efforts at providing good education for the people, no matter their geographical location.
President Kufuor expressed hope that traditional rulers and other stakeholders would assist the school in the commencement of the second phase of the project which was estimated to cost three Million Ghana cedis.
He commended the Methodist Church for its contribution towards the development of the country's educational and socio-economic development. The President praised Dr Appiah Poku, the Chief Executive of Naachiaa Group of Companies and founder of the school, the leadership of the Church and congregations who contributed to the realisation of the project.
President Kufuor said 'it is only when our children have access to relevant quality education that the momentum of development will truly keep pace with national aspirations and progress. Quality education also impacts positively on the health, welfare and general well-being of all',
He called on the teachers and other staff of the school to be extra patient and always remembers that children were not only precious assets but were equally tender and required a lot of attention, affection, patience and direction.
President Kufuor responding to some concerns expressed by the Right Reverend Ben Nuh Abubekr, the Methodist Bishop of Kumasi, gave the assurance that Religious and moral Education would be part of the syllabus of the teacher training programmes,
The President also said efforts would also be made to extend the School Feeding Programme to all basic schools nationwide.
Rev Beatrice Opare, head teacher of the School, called on government to provide the educational institution with a bus to facilitate academic work. She also appealed for the building of science laboratory equipment, furnishing of the school's ICT centre and assistance for the recruitment of international volunteers to teach in the school.
The President donated 5,000 Ghana Cedis towards the Endowment Fund, which was meant for the maintenance and provision of equipment for the school.