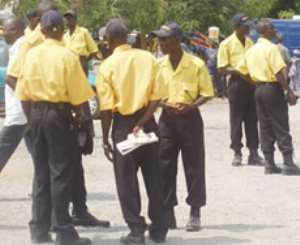 The minority in parliament says the Community Police of the National Youth Employment Programme (NYEP) is illegal and must be scrapped and reintegrated into the regular police.
The call was necessitated by recent developments in the modus operandi of personnel of the unit, which has resulted in the deaths of two members of the unit.
One died in an attempt to arrest an armed robber, while the second died when he tried to arrest a taxi driver by climbing onto the bonnet of the car and was driven to his death.
On a Citi FM news bulletin monitored by myjoyonline Monday morning, March 31, 2008, the Minority Spokesman on Interior, Abukari Sumani said the government has ignored recommendations of the consultant on the project and has gone ahead to implement the programme.
He said the government had set up the unit contrary to recommendations only to serve the interests of the New Patriotic Party (NPP) and not Ghana.
He therefore asked that the unit should be retrained and re-equipped to make them efficient. He also argued that even the regular police, require retraining to be able to meet the requirements of modern policing.
Mr. Abukari is also asking that the unit should be integrated into the Ghana Police Service to boost their numbers.
Meanwhile, in an interview, the Commanding Officer of the Motor Transport and Traffic Unit (MTTU) of the Ghana Police, ACP Daniel Avorgah says the unit has been very helpful to the Ghana Police in terms of human capital.
Advertisement
He said the creation of the Community Police Unit has brought some relief to the Ghana Police and their withdrawal would deal a blow to the Service.
He also called for their retraining and re-equipment to enable them perform their functions efficiently.
By Emmanuel K. Dogbevi