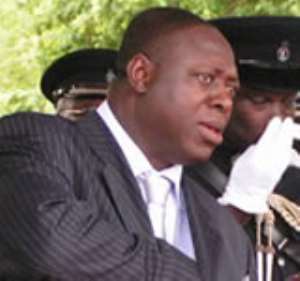 The Inspector General of Police (IGP), Mr. Patrick Kwarteng Acheampong is expected to appear before the Kojo Armah-led committee, tasked to investigate the cocaine substances that were substituted in the custody of the Criminal Investigations Department (CID) today.
The IGP will brief the five-member Committee whether the testimonies which were given by some of the police officers who testified before the committee fall under police standards.
According to the Chronicle Mr. Acheampong, who celebrated his 57th birthday on Tuesday, was initially invited by the committee to give his testimony on March 27, but when he went none of the committee members were present.
In that regard, the committee has asked the IGP to appear before it today.
The Chronicle says it expects the IGP to make startling revelations which might implicate certain top officers whose professional conduct has been questioned.

Information gathered by The Chronicle indicates that the Committee would take the opportunity to request the police chief to explain the channels that dockets go through before getting to him.
He is also expected to elaborate on the activities and operations of the various units in the police service that come directly under his supervision.
Meanwhile the Director of Specialized Crime & Analysis at INTERPOL, who also happens to be the former Director-General of Criminal Investigations Department of the Ghana Police Service (CID), Mr. David Asante-Apeatu, is expected to re-appear before the committee to explain some inaccuracies detected in his earlier testimony to the committee.
The Chronicle quotes its sources as saying that Mr. Asante-Apeatu had told the committee that the Narcotics Unit of the CID was not under his supervision but comes directly under the supervision of the IGP.
"In spite of his claim, sources have it that Mr. Apeatu had minuted and signed the dockets regarding narcotic cases," according to the paper.
The paper also learnt that the last time he testified before the committee, there was a heated debate between the current CID boss, Mr. Frank Adu-Poku and Mr. Asante-Apeatu on who to blame for the substitution of the narcotic drugs into corn flour.
Advertisement
Mr. Adu-Poku had called for a face-to-face meeting between himself and Mr. Asante-Apeatu to set the records straight. However, Apeatu insisted that he does not keep inventory of the narcotics exhibit room, but Adu-Poku rebuffed the assertion.
When offered the opportunity to speak, Mr. Apeatu bemoaned how some officers at the CID headquarters had run their units without any form of respect for him.
However, the IGP is expected to make a crucial statement today which would settle the dust on the raging issue of whether or not the CID boss keeps inventory of narcotics in their custody as being argued by Mr. Apeatu and the current CID boss.
When reached, the Chairman of the Committee. Hon Kojo Armah told The Chronicle he could not comment on the issue.