Zimbabwe: No easy answers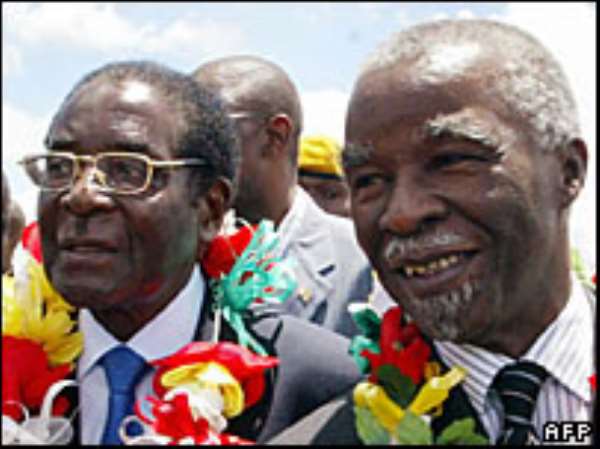 Mbeki's quiet diplomacy has yielded few results
Many foreign governments are left simply hoping for a result from the Zimbabwe elections on 29 March that either undermines President Robert Mugabe so much that he is forced to negotiate a way out or simply removes him from power.
But they also think that Mr Mugabe will once again outwit his critics.
Given the level of international concern about Zimbabwe, the question is often asked as to why the outside world has not intervened.
If "intervention" means invading, it would be against the United Nations charter without the authority of the Security Council.
The Security Council is the only body that can authorise such an intervention and it can do so only if it identifies a threat to international peace and security. No such threat has been declared in the case of Zimbabwe.
Getting the authority of the Council would be vital. The invasion of Iraq has been criticised precisely because it did not receive the Council's unambiguous backing.
It is true that new UN rules agreed in Security Council resolution 1674 in 2006 allow for a government to be declared in breach of a new "responsibility to protect" its population. But this applies to "genocide, war crimes, ethnic cleansing crimes against humanity".
African opposition
An invasion of Zimbabwe would also be unacceptable to its neighbours.
Whatever the faults of his government, Robert Mugabe is still for many in the region, and on the continent of Africa, a heroic figure who liberated his country from minority white rule.
It would be unthinkable, according to this view, for him to be overthrown by force from outside.
It is sometimes argued that the West is hypocritical in that Nato went to war with Serbia over Kosovo (without a UN resolution) but is unwilling to help starving Africans by intervening in Zimbabwe.
But the West, even if inclined to make a case based on the growing concept of "humanitarian interventionism", would not do anything militarily without the support of regional leaders and the African Union (AU).
And that support is unlikely to come.
In the absence of military action, efforts short of invasion have been and are being applied.
Sanctions
The United States and the European Union have imposed what they call targeted sanctions at President Robert Mugabe and his key supporters. These involve travel bans, restrictions on commercial dealings with those on the lists and asset freezing abroad.
But sanctions have been ineffective. They simply mean that it makes travel difficult (no more shopping trips to London and Paris), but they did not stop President Mugabe from being invited to Portugal for a EU-Africa summit last year.
Zimbabwe's neighbours have also led another sort of intervention, with a mediation mission headed by the South African President Thabo Mbeki. This has not worked out either.
It may be that the success of an AU-supported mediation effort in Kenya, led by the former UN Secretary General Kofi Annan, could provide encouragement for a similar role in Zimbabwe.
But that would need the support of Mr Mugabe.
ICG report
The International Crisis Group (ICG), a private organisation which monitors crises around the world and recommends action, has suggested several measures for Zimbabwe.
If the election results are "heatedly disputed and national and regional observers report credible evidence of widespread irregularities", it wants the African Union, South Africa and the regional grouping of the Southern African Development Community (SADC) to "issue a joint statement that the regional bodies are withholding recognition of the results".
In that event, it also calls for a high-level AU mediation mission "to assist negotiation of a power-sharing agreement... with a view to establishing a transitional government.. in advance of new elections".
As for the US, the EU and others, it urges the extension of sanctions to those abusing human rights or "blocking a political settlement" and the relaxation of sanctions against those within the ruling Zanu-PF party who are ready for "power-sharing talks".
More broadly the ICG wants the US, the EU and others to stand ready with an economic and political package if a government of national unity is established.
And it wants them to go to the Security Council in the event of a "massive outbreak of violence... threatening peace and security in the country and the region".
Acceptance by the Security Council that there was a "threat to peace security" in the region would potentially open the way to a military intervention.
But that is a long way off.
By Paul Reynolds
World affairs correspondent, BBC News website
[email protected]