Ex-convict 'missionary' jailed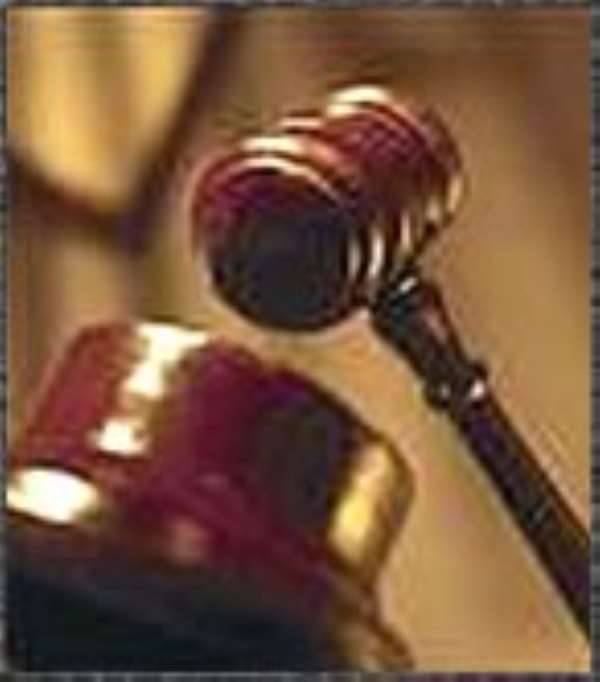 Frank Anim, an ex-convict made the headlines 10 years ago when he eloped with a Catholic Sister, Georgina Achiaa. They went round the country as a couple and solicited for funds at various mission houses ostensibly in aid of charity and made away with the car of a Bolgatanga-based pastor before going underground.
This time he has re-appeared as Blankson Kofi Eshun alias Kofi Eshun with another woman and a nine-month-old child and has succeeded in stealing the possessions of the midwife at the Kadjebi Health Centre in the Volta Region.
Frank Anim or Blankson this time round has been sentenced to seven years imprisonment with hard labour for stealing 10 full pieces of GTP cloths, three full pieces of Holland cloths, one male kente cloth and others belonging to Madam Edith Kumah, the midwife.
He has pleaded guilty to the charge of stealing and unlawful entry.
Prosecuting him at the Jasikan Circuit Court presided over by Mr Samuel Sarpong Appiah, Chief Inspector Gabriel Kaledzi said Blankson and a woman visited the health centre last October with a nine-month-old baby who was sick and needed treatment.
The accused who claimed he was a pastor, returned another time with his "wife" and the baby for treatment where he told the midwife that he had come to Kadjebi for pastoral duties and requested for a place for fasting.
The nurse, the police said, led him to her premises, which was within the health centre and accommodated them in the sitting room.
The unsuspecting complainant left them in the house for work without locking her bedroom door since she had a permanent maid in the house.
The couple, according to Chief Inspector Kaledzi, with the intent to steal, sent the maid to buy them kenkey from town.
After she left, they ransacked the bedroom of the midwife and made away with the items.
She reported her misfortune to the police and the accused was arrested and charged with the offence.
The November 20, 1998 edition of the Daily Graphic reported that a Catholic Nun, Rev. Sister Georgina Yaa Achiaa who broke her vow by running away from her Kumasi convent early that year with her lover was drifting deep into sin as she was suspected to be involved in a stealing case.
According to the report, Sister Achiaa and her lover, one Frank Anim said to be an ex-convict, were in the news in January that year when they went round the country as a couple and solicited for funds from various mission houses ostensibly in aid of charity.
The latest episode involving them came to light when a family member identified her in a newspaper publication linking them to the theft of a car.
A family source said following reports that the nun had been lured from the convent by her ex-convict lover, they managed to get her back but she again managed to escape with Frank.