AAMGa Honours Daily Guide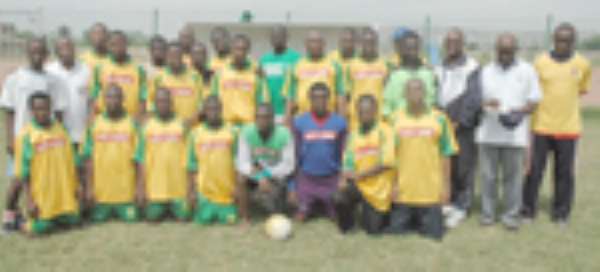 Traffic Media, organizers of the All Africa Media Games (AAMGa) have honoured DAILY GUIDE for its immense contribution so far towards the upcoming event, scheduled for May 1-3, 2008 at the Elwak Sports Stadium in Accra.
Presenting the certificate of honour to the paper, Mark L. Addo, Deputy Supervising Head of Events at Traffic Media stressed that it was in recognition of the role played by DAILY GUIDE in the lead-up to the all-important media event.
Mr Addo, who was accompanied by Freda Oppong and Comfort Owusua Larbi, noted:"We will do our best to ensure that the games come off successfully. You will not regret being a part of it."
Receiving the certificate on behalf of DAILY GUIDE, Pierre Toto of the Sports Desk expressed appreciation to the organizers and charged them to ensure fair officiating in all disciplines during the games.
The AAMGa, which would witness the participation of 27 media houses from across Africa, was launched on February 1, 2008 at the Ghana International Conference Center in Accra by Traffic Media, in conjunction with the Ghana Journalists Association (GJA) and ministries of Health as well as Chieftaincy and Culture as part of efforts towards the African unity initiative.
According Mark L. Addo, preparations are underway in Nigeria and the rest of Africa to make sure the event comes off successfully.
"Thelma Neequaye, the Supervising Head of Events has embarked on a trip to Nigeria and the rest of Africa to ensure the successful take-off of the event," he added.
Meanwhile, Barclays Bank, Cadbury Ghana Limited, Cowbell, Indomie, PZ, Efex Executive and Savanna Spring, local sponsors of the event, have confirmed their satisfaction with preparations so far and promised their unflinching support for the games.
By Mohammed Muniru Kassim