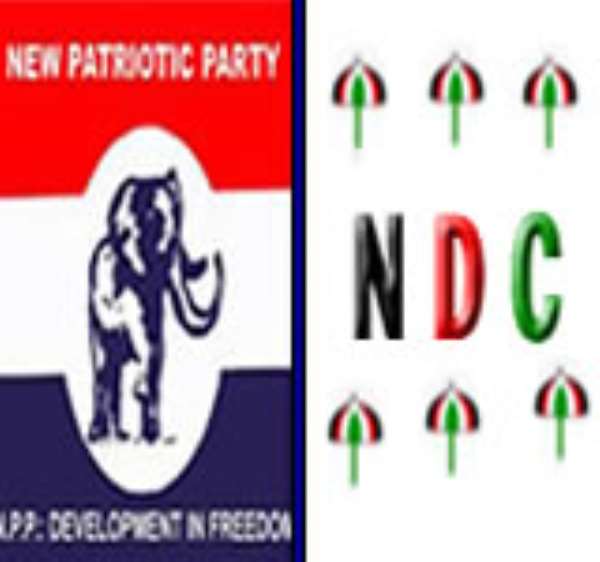 The Flagbearers, campaign team and supporters of the ruling NPP and Opposition NDC clashed at the residence of the chief Imam on Friday morning, March 28, 2008.
Both the NPP and NDC campaign teams were scheduled to pay courtesy calls on the Chief Imam, Sheikh Osman Nuhu Shaributu.
NDC Flagbearer, Prof Atta Mills and his supporters who were the first to meet with the Chief Imam left to address a mini rally at a constituency office at Fadama near Sheikh Sharubutu's house.
After the event, the entourage returned and met the NPP flag bearer, Nana Akuffo Addo and his team also taking their turn.
The road they were using was then blocked by the vehicles of Nana's team.
Reports reaching Joy News indicate that the NDC and the NPP engaged each other in verbal abuses when each demanded the right of way.
Some supporters of the NDC kept chanting "cocaine", "cocaine" "cocaine".
Explaining the incident to Joy News, an aide to Nana Akufo-Addo, Abu Jinapour claimed Alhaji Collins Dauda led a group of thugs wielding dangerous weapons and surging towards the NPP flag bearer.
According to him, it took the timely intervention of personal bodyguards of Nana Addo and the security personnel to whisk Nana away in his vehicle.
Responding to his claims, Alhaji Dauda denied leading thugs who wielded dangerous weapons.
He said the incident was not planned, admitting however that he confronted Abu Jinipour and told him to clear the road.
Alhaji Dauda said the NDC supporters were rushing to catch Friday prayers at the Abossey Okai Central Mosque and therefore needed to use the road.
Details follow soon