'My Son Did Not Jump To Death '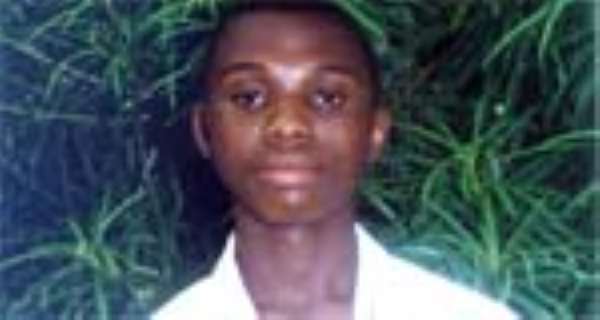 THE AUTHENTICITY of reports that Gafaru Abdul Rahman Mustapha, an 18-year-old form three student of Adisadal College in Cape Coast had jumped from the fourth floor of one of the school buildings, landed on his head and died on the spot, has been questioned.
Mother of the deceased, Samira, told DAILY GUIDE that listening to the various narrations of the circumstances under which Gafaru died, she 'smelt a rat' and was calling for an independent investigation to establish the truth of what exactly led to the death of her first child.
When contacted at her residence at the GREDA Estates at Nungua, a suburb of Accra last Wednesday, Samira said she found the entire incident very mysterious and felt her 18-year-old son was still in school; learning to become a Scientist and that she could not come to terms with the fact that Bala, her pet name for Gafaru, was really dead.
"I cannot believe that Gafaru on his own would jump from a four storey building as we are being told; I gave birth to him myself and he had remained under my training since his birth; Bala would never do that; it cannot be my son," she told DAILY GUIDE with teary eyes.
Samira said when the school trunk, chop box, mattress and other school kits of her late son was brought home, the pain in her heart became unbearable but she had a strong conviction that the truth behind his death would be established in the near future.
She said Gafaru, from his infancy, had stayed away from risky antics and remained very cautious, thus there was the need for the case to be properly investigated with a motive of establishing the truth so that all doubts would be cleared.
When asked to comment on the nature and attitude of her dead son, Samira said that was unnecessary as anything she would say concerning the character of her son would be brushed aside as an expected praise of a mother for a dead son.
She was of the view that other neutral persons like Gafaru's teachers, both former and current ones, would be the best persons to give a true testimony of his nature.
Mr. A. B. K. Adams, the Headmaster of Queen Jane's School in Nungua, where Gafaru had his Junior High education, almost broke down in tears when DAILY GUIDE visited the school to talk to him on the nature of the boy.
Mr. Adams said when the school first heard of Gafaru's tragic death on radio, they concluded it was another person with the same name because they had a lot of respect for and confidence in him and even during the last vacation, he was in the school to interact with and advice the final-year students on how they could learn hard to pass their examination and attend good schools.
He said as far as he was concerned, Gafaru would do no such thing and that for close to three years that he attended Queen Jane's School, he remained an academically excellent student who mingled with only the well-behaved students and left the school with one of the best testimonials.
"He got aggregate one in eight subjects and aggregate two in two subjects and was top of the six outstanding students we gave awards to when they graduated; he was representing the school in almost every competition that was academically based and we are proud of him even in his death because we believe he was a promising child who would not do what we hear he had done.
"When schools recently broke for Easter, many of his mates and friends came around to confirm if indeed it was the same Gafaru they knew because he was not the type of boy who would do such a thing; he was one of the six outstanding students we honoured when they graduated from this school and personally, I have learnt a lot of things from him.
"Even after gaining admission to Adisadel, he always brought his results to me in my capacity as his former headmaster and he was doing well just as he did when he was here.
"I really do not want to talk about this issue anymore; it is a sad one we cannot bear," the headmaster added.
Being a Moslem, his mortal remains had since been laid to rest but the family would have a funeral service for him in Accra on the 27th of April this year.
He was born on the 23rd of February 1990 at the Doku Memorial Clinic near Madina and started school at the Action Institution Centre, Airport West and after class six, his family moved to stay in Nungua where he continued from form one at the Queen Jane's school.
Until his death, he was the Financial Secretary and Treasurer of the Ghana Moslem Students' Association, Adisadel Branch.
He has two younger siblings, a boy and a girl
Meanwhile the Adisadel College has set up a five-member committee of enquiry to investigate the issue and submit its reports within 15 days.
The committee was inaugurated last Wednesday and has Reverend Canon John M. Adu-Acheampong, Manager of Anglican Education Unit as it chairman.
Other members of the committee are Alhaji Abdulsalami Adam, Central Regional Manager of the Islamic Education Unit, Mr Darko Yeboah, old student and a lawyer, Ms Charlotte Impraim, staff representative, Mr Eric Amar, PTA representative and Mr Kwadwo Asiedu-Gyimah, Assistant Headmaster in charge of Administration, as the secretary.
By Halifax Ansah-Addo