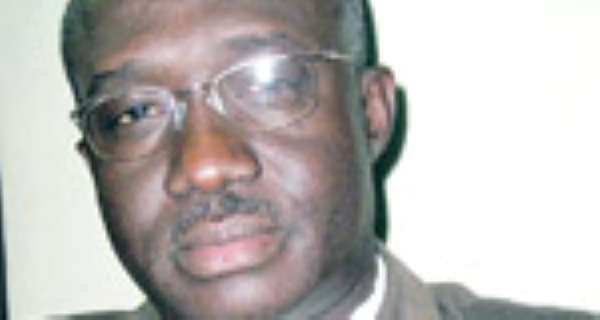 The Navrongo Central Constituency is overflowing with rumours about the shocking incident involving the former Minister of Energy and Member of Parliament (MP) of the constituency, Joseph Kofi Adda and Solomon Anani Adeyiga, PNC Ward Chairman for Buru-Bonia Electoral Area.
News of the alleged brawl on Tuesday is currently the topic for discussion in every beer bar, market center, shop and office in the area.
While the news shocked all who heard it, many were of the view that it was about time the President revealed the reason for which Adda was relieved of his ministerial position to forestall further speculations and mayhem in the constituency.
Meanwhile, Adeyiga has threatened to pursue the case to its legal conclusion because as he puts it, he had been disgraced by the former Minister's action.
Adeyiga observed with concern that Adda had been unhappy since he lost his political portfolio and had shunned the group of people he used to "chill" with when he was a Minister, noting that it was important to assist him to reintegrate into the society as an MP and not a Minister.
"He knows I am innocent of the charges he had been leveling against me. He knows I only discuss issues openly and I have been his target for a very long time for saying things that sometimes do not go down well with him. Anyway, I don't blame him, he is a drowning man, and as such wants to catch a straw. I am the straw Joseph Kofi Adda has caught in his dwindling image in the sight of the people in the constituency," he said.
Mr. Adeyiga repeated that Mr. Adda approached him personally and confronted him for organizing a party at Mayaga Hotel in Navrongo to jubilate over his dismissal as Energy Minister.
According to him, he denied the accusation and therefore could not understand Adda's reason for leading thugs to assault him.
The PNC Ward Chairman recalled that he was on his way to the Tono Club House in Navrongo to attend a PNC meeting when the MP drove past him, packed his car and alighted.
He said the MP, after alighting, held his (Adeyiga's) shirt, pulled him out of his car and punched his face.
He related that while he was trying to resist the action of the MP, a gang of well-built men emerged from a nearby bush and also pounced on him, subjecting him to severe beatings.
Mr. Adda has however denied all the allegations.
The case had meanwhile been reported to the Navrongo Central Police.