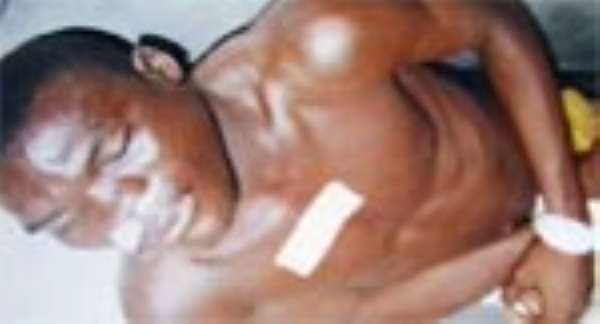 THE AIRPORT Police in Accra have begun investigations into the death of two holidaymakers who allegedly drowned in the swimming pool of Sunspot Hotel, in the Airport Residential area of Accra.
Henry Asare aka Nana Yaw, 24, a cleaner at a bank in Accra, and Philips Simpri, 20, a student of an Accra-based talent restoration academy, got drowned separately on March 21 and 24, 2008 while swimming at the hotel during the Easter holidays.
According to Police detectives, Henry Asare was rushed to the Nyaho Medical Centre, where he was pronounced dead.
Three days later, Philips was discovered floating in the same pool, and was also pronounced dead by the Police Hospital in Accra, where the two bodies are currently deposited awaiting autopsy.
Superintendent Fosu-Ackaah, District Commander of the Airport Police Station, said while the police do not suspect any foul play, they are awaiting autopsy reports to determine the cause of death of the two persons.
Supt. Fosu-Ackaah cautioned the general public of the need to be careful during holidays and said the police have met Henry's family but are making efforts to contact that of Philips.
He revealed that two similar deaths were recorded in 2004 and 2005 at the same hotel through drowning.
In an interview, manager of the hotel, who spoke on condition of anonymity, attributed the drowning to high level of alcohol consumption by customers though it is the hotel's policy not to serve customers at the pool side with alcoholic drinks.
The hotel manager said at the time of the incidents, he was in Koforidua, but before his departure, he had assigned two life guards to take charge of the almost 60-70 swimmers expected during the holidays.
He described as a great tragedy the death of the two and said all efforts would be made to avert any future calamity.
The hotel's pool is divided into three depths of swimming categories of 3ft; 4ft and 9ft.
By Jos Garneo Cephas