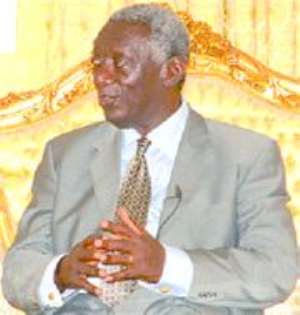 President J.A. Kufuor has met with a delegation of Mamprusi elders and opinion leaders in an effort to find an amicable end to the Bawku conflict.
He appealed to the Mamprusis to approach efforts at resolving the conflict with an open mind and be prepared to accommodate new situations driven by history.

Receiving the delegation at the Castle, Osu, in Accra yesterday, the President said it was important to ensure the fair interest of the parties in the conflict and make the outcome a win-win situation for both sides.

President Kufuor noted that there was great potential for wealth creation in the Bawku municipality and so it was important to secure peace, which he said was a prerequisite for development.

He said he had been touched by the moderate language by the spokesman for the delegation, noting, "Where there is a willingness, there is a way."

With such moderate language and hearing the stories of the two sides, the President said the dialogue and an accommodating process could be launched in an effort to resolve the conflict.

The spokesman for the delegation, Dr Sam Bugri, expressed appreciation to the President for the opportunity given to them to address the issues which were important to the country, since peace and tranquillity were needed for national development.

After the opening statements, the meeting retired into a closed-door session. The President requested Members of Parliament (MPs) from the Bawku municipality who accompanied the delegation to retire, but with an assurance from him that they would be asked to join the peace process at a later time.

On March 13, 2008, President Kufuor held a similar meeting with the Bawku Naba, Asigri Abugrago Azoka II, and his elders, as well as all the five MPs from the Bawku municipality.

Violence erupted in Bawku late last year during the celebration of the Samanpiid Festival to give thanks to the Almighty God for a good harvest. So far, at least 10 people have been reported dead, several others have sustained injuries and about 127 houses and stores burnt following the violence.

In an effort to deal with the deteriorating security situation, the government has imposed curfew on the municipality and its surrounding areas and about 500 soldiers have been flown to the area to strengthen security there.

Story by Nehemia Owusu Achiaw