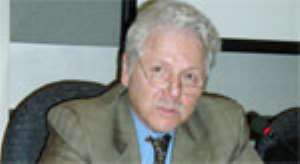 The global surge in food and fuel prices, which has become a serious problem for Ghana and other developing countries, is likely to persist for years, a senior World Bank official has said.
"It has reached a critical stage where you do have food riots in a dozen countries or some related disturbance," Danny Leipziger, the World Bank's Vice President for poverty reduction and economic management, said in a statement.
While some benefit from higher revenue on export of commodities, the problem of surging food and fuel prices is widespread enough to have affected about 30 to 40 developing countries adversely, he said.
Global prices for food and fuel have risen sharply and even accelerated in 2008, while food inflation between January 2007 and 2008 has seen increases ranging from 10 to 34 percent.
Behind the surge are high energy and fertilizer prices, increased use of food and crops for bio-fuels, higher per capita income in developing economies like China and India, and record low world stocks of grain.
Leipziger said countries have responded in different ways to address the effects of higher prices.
"In the main, countries are acting responsibly but it depends very much on what instruments they have available," he said.
He said the World Bank was currently assessing the extent of the problems in each country and could either increase or speed up the pace of budget support to those most in need.
"Particularly in countries that have made progress in terms of poverty reduction, we don't want to see this crisis put people back and undo the progress that has been made," Leipziger said, adding that it is incumbent upon the bank and other international actors to try to prevent that kind of backward movement in terms of poverty reduction.
The International Monetary Fund (IMF) has targeted measures to protect the poorest countries from higher prices through feeding programs and cash transfers, and urged governments to avoid un-targeted subsidies.
Other appropriate measures could include short-term grain supply by reducing grain import levels or expanding long-term supplies and investments in infrastructure to increase trade.
Food and fuel prices have a significant impact on people in poor countries because food represents a larger share of what poorer consumers buy, new IMF research said.
It urged countries to avoid measures that distort markets including price controls, which could cause food shortages.
By Felix Dela Klutse