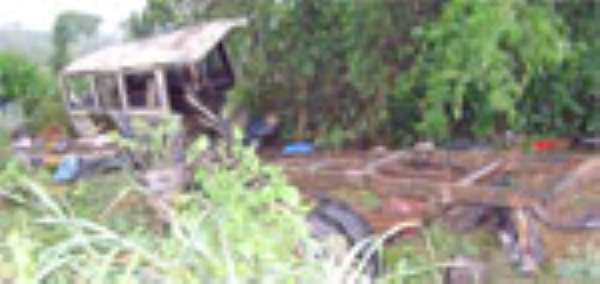 A fatal accident involving the vehicle of a medical doctor and a 33-seater Benz bus full of passengers occurred yesterday morning on the Akwapim Hills on the outskirts of Mamfe-Akuapem.
The driver of the benz bus who was travelling from Kordebia in the Dangme West district and descending the dangerous hills at top speed, smashed into the rear of the doctor's car when his brakes allegedly failed him.
The force of the impact was so strong that both cars veered into the valley below, killing a considerable number of people on the Benz bus.
Ten people on the Benz bus died on the spot while four later passed away at the Tetteh Quarshie Hospital at Mampong where they were initially sent.
Dr. Fred Sai, a medical practitioner at the Koforidua Central Hospital who was driving the other vehicle, was said to be in a very critical condition.
The Deputy Regional Police Commander, Rev ACP Ampah Benin, who briefed DAILY GUIDE about the accident, said the doctor who was driving a Ford pick-up with registration number GR 4576 U, was returning from Easter Holidays in Accra, while the Benz bus with registration number GW 5406 P, was supposedly sending
the passengers to Suhum in the Suhum-Kraboa-Coaltar District.
According to the Police Commander, the driver of the Benz bus was descending the hills from Mamfe at top speed and just when he got to one of the dangerous curves at the apex of the hill, he bumped into the doctor's vehicle.
The doctor was then initiating the sharp curve at a very reduced speed. But when the bus driver applied the brakes suddenly, it failed him, compelling him to smash violently into the rear of the doctor's car, thereby sending both of them into the valley below.
ACP Ampah-Benin bemoaned the behaviour of some drivers who do not observe driving rules with regard to descending steep hills.
According to him, drivers have to be in low gear - first or second gear - and drive at 40km/h when descending steep hills.
The Deputy Commander said eight of the injured persons were at the Korle- Bu Teaching Hospital, and seven each at the Tetteh Quarshie Government Hospital and Koforidua Central Hospital.
In all, there were 33 passengers on the Benz bus with three children.
From Thomas Fosu Jnr, Mamfe-Akuapem