Kufuor inaugurates new Libyan bank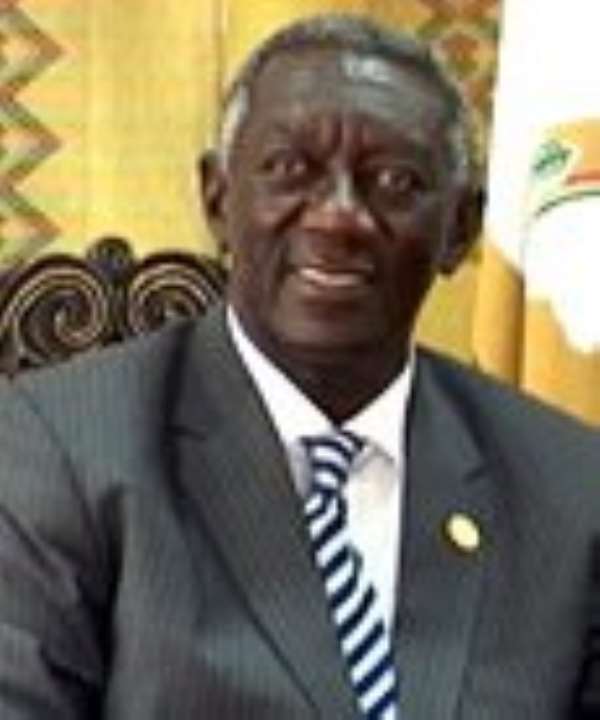 President Kufuor has inaugurated in Accra a new investment bank, BSIC Ghana. The setting up of the bank in Ghana is a follow-up to an MOU signed in 2004 by the Ghana-Libya Joint Commission for Co-operation under FINSAD.
By that MOU Ghana became a member of Sahelo-Saharienne Community which has its membership open to all African countries, including those around the Red Sea and the Indian Ocean.
President Kufuor noted that the bank will promote regional trade by Ghana and the rest of Africa while becoming a major instrument for integration.It should blend the work culture of Anglophone-Francophone and Arab speaking Africans.
President Kufuor said government is particularly pleased with the Bank's decision to assists Ghana to develop agro processing companies through medium and long term funding.This he said, will further Ghana's export diversification program.
President Kufuor observed that the banking sector has witnessed new entrants over the last years, but the degree of competition in their pricing still remains weak.Lending rates are still high.He hoped the presence of BSIC Ghana will generate the needed competition leading to the lowering of rates.
He said an important issue that demands urgent attention is micro, small and medium enterprises which have more 90% of the private sector.President Kufuor hoped with the passage of the Credit Reporting Act will help develop appropriate credit infrastructure with the requisite security to enhance financing to that critical area which has been of high risk to most banks.