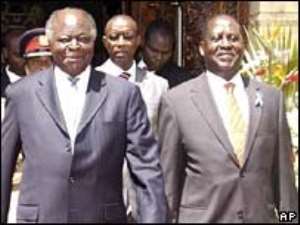 Kenyan President Mwai Kibaki and Prime Minister designate Raila Odinga have finished a two-hour meeting without naming a new grand coalition cabinet. Intense lobbying has been taking place since a power-sharing deal last month. Under the pact, cabinet posts should be divided on a 50-50 basis, but reports suggest there are still major differences between the two groups.
Some 1,500 people died and more than 300,000 were displaced in the violence that followed disputed elections.
"We have discussed several issues, but some remain pending and we shall meet again after more consultations with our parties," Mr Odinga told reporters after the meeting.
"I do not know when we shall meet again," he added.
President Kibaki is yet to make a statement.
Last Tuesday, parliament enacted two bills that formalised the formation of the grand coalition government.
Earlier, government spokesman Alfred Mutua dismissed claims of a simmering dispute over the division of cabinet portfolios.
"Consultations on the formation of the new cabinet are going on well - even better than expected and there is no hitch or deadlock," Dr Mutua said.
Media reports claimed that members of the negotiation teams from both the Party of National Unity (PNU) and Orange Democratic Movement (ODM) were contemplating asking the former mediator Kofi Annan to return and oversee the process.
Mr Annan, who left Kenya soon after signing of the peace deal, pledged to return if needed.
Pundits, however, argue that the new cabinet must reflect a regional balance to ease ethnic tensions that emerged after last year's general elections.