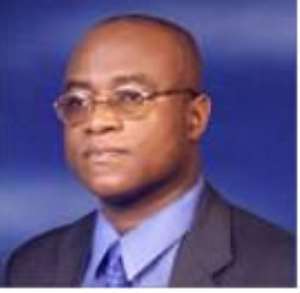 The New Patriotic Party (NPP) executives in the Suame Constituency have mounted a robust defence on behalf of their Member of Parliament (MP), Hon. Kyei Mensah-Bonsu.
The executives, led by the Chairman, Mr. Badu Aduboahen, have stated categorically that Hon. Mensah-Bonsu has performed excellently as an MP for Suame.

The now Majority Leader and Minister of Parliamentary Affairs has represented the constituents of Suame in Parliament since 1996.
Recently, a group calling itself 'patriotic citizens of Suame', criticized the Majority Leader for under-performing in the constituency during his tenure as MP.
The group, which indicted the MP for failing to develop the area, advocated for the total rejection of Mr Kyei Mensa-Bonsu's fourth bid as the MP for the area.
However, addressing a press conference on Wednesday to rebuff the barrage of allegations put forward by the 'patriotic citizens of Suame', the Constituency Chairman observed that it was not the duty of any individual or group of persons to decide whether to allow an incumbent MP to seek re-election or otherwise.
"There is space for NPP members at Suame who qualify under the party's constitution, rules and regulations to freely contest the primary and subsequently, the December parliamentary election," the Chairman pointed out.
Mr. Aduboahen accused the group of cooking the allegation of non-performance, among other things, against the incumbent MP with the sole aim of destroying him to pave way for their sponsors who intend to contest the up-coming parliamentary election.
"I wish to state with emphasis that as constituency executives, we will resist politics of untruth, slander and intimidation to ensure that people's hard won reputations are not unduly tainted," Mr. Aduboahen underscored.
The Chairman, who doubted the genuiness of the 'patriotic citizens of Suame', enumerated some development projects Hon. Mensah-Bonsu had put up in his years as the MP for the area.
Some of the mentioned projects included refurbishment and construction of classroom blocks; restoration of the road network in the constituency, and mouth-watering scholarship packages to assist brilliant but needy students at both the Junior and Secondary school levels.
"I will entreat people, who merely want to destroy others for the sake of it, to do their investigations into details before making sweeping statements that turn to ridicule them," he advised.
He said if the so-called 'patriotic citizens of Suame' had mustered courage and consulted the executives at the party's office in the constituency to enquire about the legacy of Hon. Mensah-Bonsu, they would not have made a mockery of themselves by stating that he had under-performed.
Mr. Aduboahen later in an interview told the Daily Guide that two of the four forms given to the constituency have been purchased so far.
The incumbent MP, Hon. Mensah Bonsu and a Kumasi based business tycoon and highly rated NPP activist. Mr. Joseph Amoah, are the two persons who had picked their forms as at Wednesday, March 19.