Two fake UN officials arrested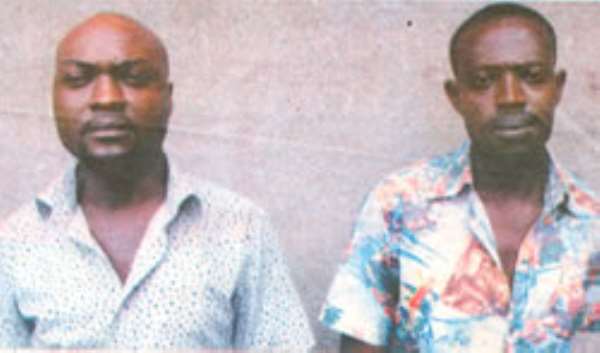 Two men who posed as UN officials and succeeded in duping some foreigners of thousands of dollars have been arrested by the Commercial Crime Unit of the Criminal Investigations Department (CID).
The two were arrested in an Accra restaurant where they had gone to meet one of their victims, who had flown down from the United States of America.
They are Benjamin Zuma, alias Duke Nino, and Godwin Mete, both suspected to be Nigerians.
According to the Public Relations Officer of the CID, Inspector Joseph B. Darkwa, on February 4, 2008, the security advisor of the United Nations Development Programme (UNDP) in Ghana reported to the police that the organisation had received a number of mails from foreigners abroad enquiring as to whether the UNDP had issued an Anti-Drug Certificate enabling holders to establish businesses in Ghana freely.
He said the mails also indicated that the UNDP was charging various amounts of money running into thousands of dollars.
Inspector Darkwa said the suspects designed fake certificates and sent copies to the foreigners as samples and directed them to pay the required amount of money into an account at a bank in Accra.

According to him, the foreigners also wanted to know whether there was a United Nations office at the Christiansborg Castle at Osu where the two suspects were supposed to be working.
He said the UNDP refuted the claim and, suspecting that the two were fraudsters who were out to dupe the foreigners, directed them to forward all correspondence between them to the police to enable them to carry out their investigations.
The Public Relations Officer said in some of the mails the two claimed to be officials of the UN Army in Accra or Public Relations Officer of the UNDP and in one of the mails which was received on March 17, 2008, suspect Zuma posed as Prof. Duke Nino and had even placed his MTN mobile numbers on it.
Inspector Darkwa said during investigations it turned out that the suspect had lured another victim into the country under the pretext of supplying her with gold and they had scheduled a meeting with her at a restaurant in East Legon.
He said a team of police personnel from the CID headquarters led by ASP Ebenezer Nketia, were quickly dispatched to the spot and the two suspects were arrested while having lunch with the victim.
Upon interrogation they admitted the offence but refused to show the police where they live.