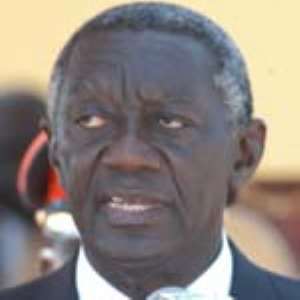 President John Agyekum Kufuor arrived in Accra this evening from France after a three-day official visit to that country.

A release signed by Mr Andrew Awuni, Press Secretary to the President and Presidential Spokesperson, said while in France, President Kufuor was named President of the "Alliance for Africa Foundation," a new private sector initiative aimed at mobilizing global support for the sustainable development of the African continent.

It said the Foundation which was being promoted by the city of Milan was outdoored on Thursday, March 20, 2008 in Paris at a meeting attended by African Ambassadors.

The statement said the Foundation's main priority was capacity building with special emphasis on vocational training, health, agriculture and public services at large.

A seed capital of 10 million Euros had been made available to kick-start the project whose headquarters would be jointly hosted by Accra and Milan, the release said.

It said in his acceptance speech, President Kufuor said the concept of the "Alliance for Africa" was consistent with the New Economic Partnership for Africa's Development (NEPAD).

According to the statement, President Kufuor said he had accepted to lead the Foundation and to work for it because no effort should be spared to galvanize global support for Africa's development.

It indicated that President Kufuor said human resource development was a necessary condition if Africa was to realize her full potential.

"We may be sitting on gold, silver or oil but it will have to take the appropriate human resource through capacity building to make these natural resources profitable to us" the release quoted him as saying.

At the airport to meet President Kufuor, who was accompanied by some government officials, were ministers of state, the Chief of Defence Staff, Lieutenant General J.B. Danquah, the Inspector General of police, Patrick Acheampong, and other senior millitary and police personnel.