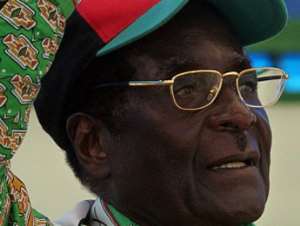 President Robert Mugabe made a defiant campaign speech Saturday a week ahead of perhaps his toughest election battle, saying Zimbabwe's main opposition party would never rule during his lifetime.

Mugabe, 84, the only head of state Zimbabwe has known since independence in 1980, also threatened to expel companies from former colonial ruler Britain after the March 29 polls.

The veteran leader, whose bid for a sixth term must overcome an economy crippled by record inflation, dismissed the electoral aspirations of Zimbabwe's main opposition party -- the Movement for Democratic Change (MDC).

"It will never happen as long as we are still alive -- those (of us) who planned the liberation struggle," Mugabe told thousands of supporters at his first rally in the capital since hitting the campaign trail last month.

He made no mention of Simba Makoni, who has broken ranks with the ruling Zimbabwe African National Union - Patriotic Front (ZANU-PF) to stand against Mugabe as an independent.

Mugabe has called Makoni a "prostitute" for taking him on and the former finance minister was expelled from the ZANU-PF last month after announcing his challenge.

But on Saturday, his barbs were directed fully at the MDC and its leader Morgan Tsvangirai.

"You in the MDC, it's treasonous to continue assisting the British to make sure they have a say here," he said -- although the opposition denies any direct links with Britain.

Mugabe warned Britain to stay out of Zimbabwean politics if it wanted to safeguard the interests of British companies still allowed to work in the former colony.

"They still have companies which are still here and we did nothing to them... 400 British companies and so they must take care, after elections," he said.

Britain, which has led international criticism of Mugabe for violating political and human rights in his country and plunging it into a disastrous economic crisis, says only 40 British firms remain operating in the country.

Mugabe's relations deteriorated with Western nations after he embarked in 2000 on a controversial land reform scheme that saw some 4,000 white-owned farms seized and handed over to landless blacks.

Mugabe also urged Zimbabweans on Saturday to help acquire a majority stake in mining and manufacturing firms after a new equity law that only allows firms to restructure or merge if locals hold 51 percent of shares.

There are fears the law could plunge the country even deeper into the economic mire.

Once a net agricultural exporter, Zimbabwe is currently reeling under food shortages, while the economy buckles under a mindboggling annual inflation rate of 100,000-plus percent.

Both unemployment and poverty rates hover above 80 percent and at least a quarter of the population has fled misery to seek economic refuge elsewhere.

Tsvangirai has warned that the March 29 poll could be rigged in favour of Mugabe and has threatened to pull out of the elections if presidential ballots are counted at a separate venue from concurrent legislative and local votes.

He told a news conference on Thursday that independent investigations had revealed that 90,000 names appearing on the roll for 28 rural constituencies could not be accounted for.

His MDC has also deplored new electoral regulations passed this week by Mugabe which allow police officers into polling stations during the elections.

The regulations allow policemen in polling stations to assist illiterate or physically challenged voters.

The southern African country's police have often used brutal force against opponents of Mugabe and the police boss recently warned that his force could use firearms if necessary to crush protests after the polls.