Liberian refugees return to Buduburam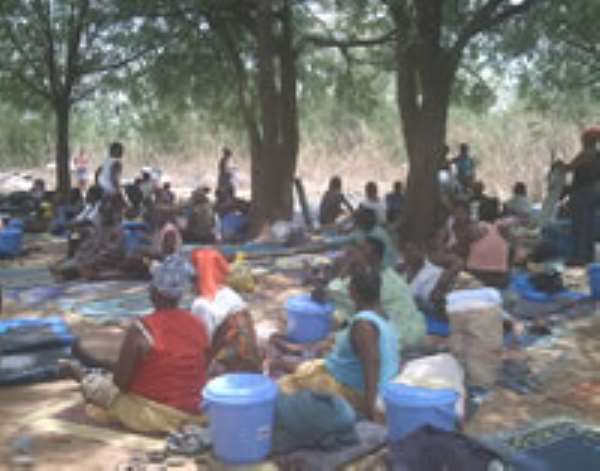 Some of the Liberian refugees who were being held at the Kodeabe Voluntary Camp in the Eastern region have returned to the Buduburam Refugee Camp, near Kasoa in the Central region after five days.
The Liberian women were protesting a UNHCR repatriation package which they say is inadequate. The women embarked on a protest lasting about four weeks during which period they have been demanding US$1000 from the UNHCR.
The Liberians also rejected integration into the Ghanaian society, demanding rather that they should be integrated into the US.
Several attempts to get them to call off the protest were unsuccessful and the women and children were subsequently rounded up by the Ghana Police for the offence of protesting without Police Permit. They were arrested under the Public Order Act and sent to the Camp at Kodeabe.
The incident has created tension between Ghana and Liberia and has given Ghana bad press internationally.
Following the row, the Liberian President Ellen Johnson Sirleaf, made an apology to the Ghanaian government for the behaviour of the Liberian citizens.
But reports reaching Joy News say some of the women and children who were being camped at Kodeabe have returned to the Camp at Buduburam.
Some officials were reported to have gone to the Kodeabe Camp to ask the refugees to pack their baggage and get ready to be moved out.
Speaking to Joy News, a refugee at the Buduburam Camp, Carl Loius said Friday night, March 21, 2008, two bus loads of refugees from the Kodeabe Camp were returned to the Camp. Louis said, "they smuggled them back into the camp last night around 10:00pm".